Oops. If waiting until fall to fill in activity calendar dates you might miss out on some of summer's really good art museum shows. No need to say oops. Take a peek at this short round-up then mark in the ones you want to catch.
"American Epics: Thomas Hart Benton and Hollywood," now at Milwaukee Art Museum through Sept, 5, 2016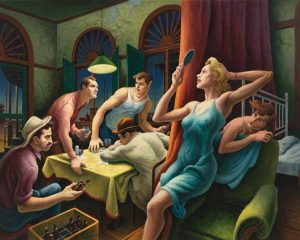 Benton's works are as monumental as the epic films that inspired him when he worked in Hollywood. But as a member of the Regionalist Movement with John Steuart Curry and Grant Wood, they are also reflective of his personal view of the agrarian way of life versus industry, World War I and II, race issues and concerns about western expansion. A muralist, a silent film set painter and a Hollywood-promotion artist, Benton's work reflected the style of the period often seen in WPA's Federal Art Project works.
Details: The Milwaukee Art Museum is at 700 N. Art Museum Drive, Milwaukee, WI 53202 east of downtown on Lake Michigan. For admission and other information visit MAM or call (414) 224-3200.
"America After the Fall," now through Sept. 18, 2016 at the Art Institute of Chicago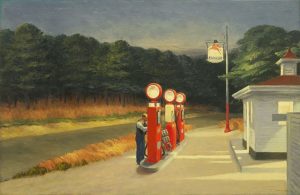 "After the Fall" overlaps, in part, with the Benton show. Indeed, Benton and Grant Wood are in the Art Institute show. "After the Fall" interprets how the artists of the time, including Georgia O'Keefe, Grant Wood and Edward Hopper, are viewing America after the economy crashed and it examines the directions their art is taking them.
Details: The Art Institute of Chicago is at 111 S. Michigan Ave., Chicago, IL 60603. For admission and other information call (312) 443-3600 and visit AIC.
"Kerry James Marshall: Mastry" now through Sept. 25, 2016 at the Museum of Contemporary Art Chicago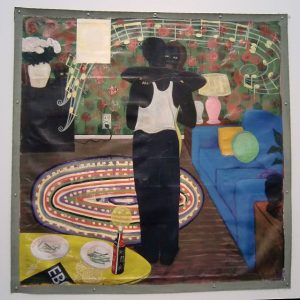 The third art show is also a view of the world but by a famous artist who is still very much alive and happens to live in Chicago. Kerry James Marshall reinterprets history, life and dreams from a black perspective. During his visit to the show at its opening, Marshall noted that there were too few blacks portrayed in paintings. His work is upbeat, exhibit, exuding an enjoyment of life. At the opening Marhall said, "I don't represent trauma, despair."
Details: Museum of Contemporary Art Chicago is at 220 E Chicago Ave., Chicago, IL 60611. For admission and other information call (312) 280-2660 and visit MCA. To learn more about the artist click here.