HIGHLY RECOMMENDED
It doesn't matter that the only memorable songs you take away from Wonderful Town, a musical about two Ohio sisters seeking success in New York, is Ohio (why did I ever leave..) and It's Love. Leonard Bernstein's jazz and swing music is enough to have audiences leave Goodman Theatre's season opener with a smile.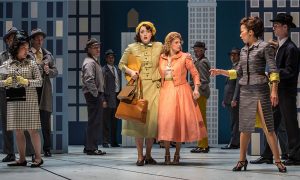 So is director Mary Zimmerman's joyful production concepts developed with set designer Todd Rosenthal and costume designer Ana Kuzmanic. Charming, art deco style graphic designs of buildings and commuters standing very tall on tiny moving cars give the production a playful vibe. The 1950's wholesome, bobby-sox style clothes set the time period.
But to see "Wonderful Town" with Bri Sudia as older sister Ruth Sherwood begs the question why aren't we seeing this Carol Burnett-style genius comic talent on Broadway and television.
That Sudia beautifully handles serious roles was evident in Northlight's outstanding production of 'Shining Lives, A Musical."
Perfectly directed by Zimmerman, Sudia is the penultimate Ruth Sherwood, the big sister journalist who compensates for a lack of cover girl girls looks with wry humor and who tries to go along with the escapades of younger sister Eileen (Lauren Molina), an eye-catching wannabe actress.
Ruth's "One Hundred Easy Ways to Lose a Man" is funny. With Sudia telling it like it is, the points are hysterical.
Molina, a Broadway actress who also was in Goodman's Candide directed by Zimmerman, is the delightful bubbly, counterpart to Ruth. Eileen's good intentions keep leading to unexpected problems that turn out OK.
Accomplished singer/actor Karl Hamilton (Goodman's The Jungle Book and Ravinia Festival's The Most Happy Fella) is an excellent Robert Baker, an editor who falls in love with Ruth even though her short stories aren't publishable.
Masterful dance numbers choreographed by Alex Sanchez highlight Bernstein's terrific jazz, swing, ballet and rag rhythms.
Based on Joseph A. Fields and Jerome Chodorov's 1940  My Sister Eileen , a play derived from Ruth McAKenney's short stores and book, Wonderful Town is a 1953 Tony Award winning musical with lyrics by Betty Comden and Adolph Green, music by Leonard Bernstein.
Details: Wonderful Town is at the Goodman Theatre, 170 N. Dearborn St., Chicago, IL 60601, now through Oct. 23, 2016. For tickets and other information call 312) 443-3811 and visit Goodman Theatre.