Stretch your art knowledge. For different artistic views check out galleries you might not have visited in Chicago and out in the suburbs.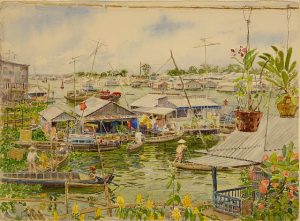 Urban Edge
Located downtown Waukegan, Urban Edge always has exhibits worth the drive. Currently, the gallery is showcasing the work of Guadalajara educated artist Esperanza Gama, Washington D.C. born/Chicago artist Terry Dixon and world traveler/now Waukegan resident, David Dallison.
About Gama, National Museum of Mexican Art Founder and President Carlos Tortolero said, "Esperana Gama is as good an artist as anyone we have in our community…and she is the best woman artist in our community right now."
Dixon whose work is in Chicago's Sandor Collection and private European collections, works in mixed media. He characterizes his mode as driven by the "Free Jazz Style prevalent in the 1950's to the 1970's."
Dallison who studied at the Art Institute of Chicago and the Ontario College of Art and Design, Toronto, now teaches at The Art Center Highland Park, the Deerpath Art League, Lake Forest, and the Chicago Botanic Garden, Glencoe. An artist who prefers working in plein air, Dallison's on-location places have included Nepal, Indonesia, Italy, Turkey, Cambodia and most recently, Kerala, India. His paintings are in several collections and he often works on commission.
The exhibition, called "Bridging Communities: A Visual Perspective," is on view now through Nov. 5, 2016. Dallison has already given his Art Talk, but you still can catch Dixon's 6:30 p.m., Oct. 24 and Gama's at 5:30 p.m. Nov. 3 at Urban Edge. Gallery hours are Thurs.-Sat., noon to 8 p.m. Urban Edge is at 220 E. Clayton St, Waukegan, IL For more information visit Waukegan Art Wise and call  847-920-4ART (4278).
The Art Center Highland Park
TAC, as the Highland Park art facility is called, holds classes and excellent exhibitions. However, the reason to go or as TAC says "Gogh Green" Oct. 21 through Nov. 10, 2016, is to see and pick up a work of art that was in someone's collection but is being let go to benefit the art center and either make room for a change in direction or to move to smaller quarters.
Not your usual garage sale, there are thousands of paintings, prints, vintage posters, ceramics, sculpture, art glass and antiques donated during the year from private collectors, galleries and institutions. Among the pieces showcased are works by Peter Max, Audrey Niffenegger, Robert Lostutter and Jill Alberts.
Tickets to the Preview Benefit night, Oct. 21, are $75 ahead and $85 at the door. The Art Center is at 1957 Sheridan Rd., Highland Park, IL. For other information visit TAC and call (847) 432-1888.
Monique Meloche
A highly respected, cutting-edge gallery, Monique Meloche, often written lower case and as one word, is featuring Kate Levant's …Which's Ploying the Fans in the gallery now through Oct. 29, 2016. View the title and the objects Levant has installed as possibly representing chaos or as her title implies, witches at work foiling plans. On the large, sidewalk-facing wall is Nnenna Okore's burlap and wire installation When all is said and done.
Gallery hours are Tue-Sat, 11 a.m.-6 p.m. Monique Meloche is at 2154 W Division St, Chicago, IL. For other information visit moniquemeloch and call (773) 252-0299.