It doesn't matter if you look at the people on the street, on a bus, in stores or on TV, you are likely to see someone with a tattoo, today.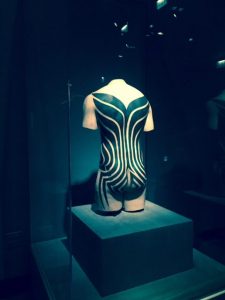 But if you want to know more about tattoos, see some rather spectacular ones and even get a tattoo or watch someone getting one, go over to The Field on Chicago's Museum Campus.
When you wander through "Tattoo," The Field's, new exhibit opening Oct. 21, 2016, you will see how tattoos were used to identify groups and people from a tribe, a prison or as individual status.
"It's a rich subject with a long cultural history. It goes back thousands of years. But is also trending now," said Exhibitions Project Manager Janet Hong while walking through a recent preview of the exhibit.
"Tattoos were not just an artistic expression, they also tell about belonging to a group," Hong said.
Most of the tattoos shown are elaborate and decorative but she explained that some were religious and could be activated in a ceremony as protective power. A video shows such a ceremony.
There are also examples of prison identifications and what the Nazis used during World War II. Another sections shows that sailors brought the idea of tattoos back with them to the states after having one done when stationed in the Pacific.
The surprise part of the exhibition is The Field Tattoo Shop. It is complete with table and materials and a wall covered with pre-drawn designs (flash art) that tattoo artists can do for people who make an appointment.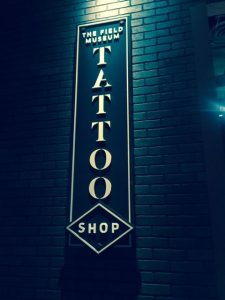 Appointments are made by calling 312-778-5040. Tattoo dates, artists and flash art are on Field Museum Tattoo.
Excited about the new exhibit, Director of Exhibitions Jaap Hoogstraten, said before ithe preview, "It features art and culture from thousands of years ago, but it's part of a trend of new exhibitions that also highlights modern artistic work and the cultural impact that this artwork makes. It's fresh, and it's powerful."
"Tattoo" was developed by the musée de quai Branly- Jacques Chirac, Paris. The Tattoo Shop is the Field's addition. The exhibition runs from Oct. 21, 2016 through April 30, 2017.
Details: The Field Museum is at 1400 S. Lake Shore Drive, Chicago, IL 60605. Hours are 9 a.m. to 5 p.m. daily except Christmas. For other information visit The Field  and call 312- 922-9410.