Listen up anyone who wants to see the Hamilton cast and any resident of Cook County who still needs to register to vote. The Chicago cast and Cook County Clerk David Orr will be at the Private Bank Theatre, 18 W. Monroe St., Chicago, midday today to encourage Cook County residents to register on line.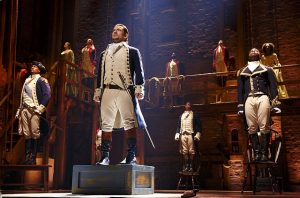 Oct. 23, 2016 is the last day to register to vote online.
The time to come is 12:30 p.m. Oct. 21, 2016.  Voter registration requirements: 1.U.S. citizen, 2. Be 18 years old by the general election Nov. 8, 2016, 3. Live in your precinct at least 30 days before Nov. 8.
In addition, to register have two of the following identifications  items with one having proof of address: Illinois driver's license,  employee or student ID, credit card, social security card, birth certificate, uility bill in applicant's name, or mail postmarked to the applicant, valid U.S. passport, public aid ID card or lease or rental contract.
Other voter information is at the Cook County Elections Homepage and at Cook County Register.
Of course you know that Hamilton is Lin-Manuel Miranda's the hit musical inspired by Ron Chernow's biography of Founding Father Alexander Hamilton. For the Chicago Hamilton show information visit Broadway in Chicago  and click here to see the review.