HIGHLY RECOMMENDED
In 'King Charles III,' a comic-tragic "future history" play, author Mike Bartlett brilliantly tackles Britain's succession to the throne when 90-year-old Elizabeth II dies. His "what if" takes place within the perfect background of Chicago Shakespeare's Courtyard Theater, a Globe and Swan Theatre-like setting.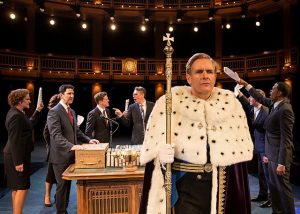 With Charles, Prince of Wales, the longest-serving heir apparent in UK's history, waiting to ascend to the throne, the answer should be a ho hum "The Queen is Dead, God Save the King" and tradition carries on. But Bartlett throws a spanner in the mix.
Instead of being the stable figurehead admired by his "mum's" subjects, heir apparent Charles wants to bring to his reign the power to work with Parliament and advise them when he disagrees with them. He does not want to automatically sign off on their acts.
The test case is a law, not particularly liked by the opposition but passed anyway, that curtails freedom of the press. On opening night, the audience  seemed to appreciate that Charles took this stand even though the British paparazzi had plagued him and his family.
Up to this point, the play had several comic lines. Then, seemingly good intentions turned the play tragic. Written in verse with a cadence similar to that of William Shakespeare's plays, 'King Charles III' becomes a proper drama in the Shakespearean style with Machiavellian plots, familial betrayals, a ghost and a tinge of Macbeth and Hamlet but without the murders.
Among Charles' options are to dissolve Parliament and force an election that would take his position to the people.  BTW, the option was questioned by some audience members and yes Britain's monarch can do this.
Part of the reason the play works so well is Bartlett's skillful use of Shakespearean language patterns but with 21st century words. And as  Associate Playwright of UK-based Paines Plough with ties to the Royal Court Theatre, Bartlett is familiar with the British press, Parliament the Royals and public reactions.
However, the Chicago Shakespeare Theater's production is also a four-star play because of its exceptional cast.
British actor Robert Bathurst, a Downton Abbey regular, perfectly wears the ermine cape. Kate Skinner is Charles less than regal consort Camilla, the Duchess of Cornwall.  Jordan Dean is the malleable Prince William who doesn't like the chaos that results from his father's democratic stand so listens to Amanda Drinkall who as Kate Middleton, steps into the fray with a solution.
Alec Manley Wilson is the beloved rogue of the family, Prince Harry who wants to leave the royal fold to become a regular guy and family man. His love interest is art student Jess Edwards delightfully interpreted by Rae Gray.
CST and Writers Theatre regular Sean Fortunato appears as arrogant Prime Minister Tristan Evans who refuses to put aside the traditionally rubber-stamp role. He doesn't want to work with Charles.
Opposition Leader Mark Stevens who deceitfully seems to go along with Charles is played by David Lively. Sarah Chalcroft is the ghost of Princess Diana who confusingly speaks of who will be Britain's greatest king.
Directed by Gary Griffin with scenic design by Scot Davis, the production pulls the audience into a what-if scenario that is bound to change how people view Britain's royal family, rubber-stamp politics and taken-for-granted ascendency or even elections.
Details: King Charles III is at Chicago Shakespeare Theater, Navy Pier, 800 E. Grand Ave.,  Chicago IL now through Jan. 15, 2017. For tickets and other information call (312) 595-5600 and visit  Chicago Shakespeare.