UPCOMING
You won't have to ask what opera star Renée Fleming, Broadway star Jessie Mueller, folk singer/writer John Prine, R&B/gospel artist Michelle Williams, New Queen of Blues Shemekia Copeland, tenor Matthew Polenzani and The Handsome Family husband-wife duo have in common.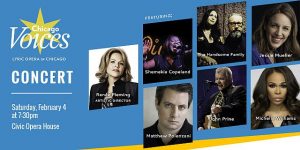 Merely, snag a ticket to their concert, Feb. 4, 2017 at the Civic Opera House, to see them perform.
You will experience a blend of styles and hear the program is a tribute to Chicago's musical influence.
Mixing genres might sound unusual but think  'Hamilton,' a blockbuster musical that uses several styles (it's not just rap or hip hop).
Led by Music Director Doug Peck, a five-time Jeff Award recipient, the eclectic program  features and mixes  musical styles.
Fleming, a creative consultant for the Lyric Opera, has been working with Lyric Unlimited, an outreach branch, to encourage Chicago residents to tell their stories through a variety of musical and rhythmic genres.
The legendary opera singer and Lyric Unlimited call the program Chicago Voices. Click on it to find out more.
"When violence in Chicago and a divided America are the headlines, Chicago Voices offers an example of unity, " said Fleming. "On Feb. 4, we raise our voices to honor the musical heritage and rich diversity of the city we love," she said.
For ticket information visit Lyric Opera/Concert or by call (312) 827­-5600. The Civic Opera House is at 20 N. Wacker Drive, Chicago, IL 60606.