HIGHLY RECOMMENDED
Imagine children named for popular characters who then take on some of those people's  characteristics in situations similar to their namesake's and you get some idea of what to expect in 'Vanya and Sonia and Masha And Spike.'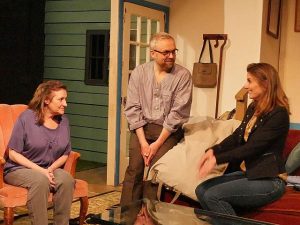 Written by satirist and witty playwright Christopher Durang, and directed  by Mark E. Lococo, Loyola University Director of Theatre, the play is currently bringing chuckles to the Citadel stage in Lake Forest.
When Vanya's adopted sister, Sonia, says she had a bad dream – "I'm 52 and not married," he answers, "You are 52 and not married." He asks her if her dream was a documentary.
Seriously funny, the play is, in a sense, a tribute to Anton Chekhov's understanding of sibling relationships, middle-aged angst and boredom.
A mash-up of Chekhov's characters in 'The Seagull,' 'Uncle Vanya' and 'The Three Sisters,'  the action plays out in a Bucks County, PA farmhouse in an increasingly attractive region outside of Philadelphia. Kudos to Scenic Designer Michael Lewis for creating a terrific setting on Citadel's intimate stage.
Vanya and Sonia, named by their late parents who were professors, still live in the house where they grew up but it is owned by their sister Masha, a successful actress who pays the bills instead of an aging, male relative. Of course the land includes somewhat of a cherry orchard.
The play's title, alone, clues audiences in to Durang's play as a Chekhovian takeoff. Instead of an aging professor bringing his young, beautiful wife home, Masha shows off her young lover, Spike who likes to undress to show off his bod.
Add to the mix, Cassandra, a colorful psychic cleaning lady, blends Greek tragedy with Haitian voodoo for some delicious, almost Carol Burnett-style comedy.
It all works because of perfect, inspired casting.
Billy Minshall, Father Mark in Tony n' Tina's Wedding is the ideal, philosophical, gay Vanya. He is writing a play seen through the eyes of a molecule that is left when the earth destructs. His rage at Spike's representing current cultural and societal change, is worth the price of admission.
Multi-talented actress/director Ellen Phelps wears the life-has-passed-me-by Sonia role so well she might have just stepped out of Chekhov's world. But unlike a Chekhov play, she goes to a costume party, her first outing in years, and dresses as Maggie Smith going to an Oscar ceremony. Afterwards, Phelps does an amazing phone piece as a woman who doesn't know how to respond when a man she met at the party calls for a dinner date.
Susie Steinmeyer, outstanding in Citadel's 'Lend Me A Tenor' and 'Jake's Women,' projects just the right amount of celebrity aura and angst as an  actress who doesn't want to admit shes aging.
Chicago Shakespeare Theater regular Colin Morgan is superb as the witless boy-toy Spike. Lizzie Schwarzrock is delightful as ingénue Nina, a next door neighbor who admires Masha and wants to be an actress.
Judy Lea Steele, a veteran of Chicago theater, brings the house down when she crazily warns of various misfortunes as Cassandra.
North Shore theater goers are lucky to have the production so close but it is worth a trip north for Chicagoans.
Vanya and Sonia and Masha And Spike' is at Citadel Theatre, 300 S. Waukegan Rd. lake forest, now thru May 28, 2017. For tickets and other information call (847) 735-8554 or visit Citadel.