RECOMMENDED
The wonderfully lyrical songs and the delightfully fun numbers in Alan Jay Lerner and Frederick Loewe's 'My Fair Lady' plus the gorgeous voice of Lisa O'Hare as Eliza Doolittle and Anthony Powell's costumes are reasons enough to see the Lyric's show.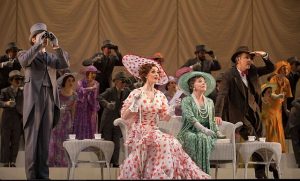 Bryce Pinkham who played  Monty Navarro on Broadway in "A Gentleman's Guide to Love and Murder," was a treat to hear as he sang "On the Street Where You Live" as Freddy Eynsford Hill. So was the ensemble, many of whom either hailed from the Lyric Opera Chorus or past Lyric operas.
Powell's period costumes made exceptional fashion statements that defined the characters.
The voices, music, lyrics and the story based on George Bernard Shaw's "Pygmalion" make up for some of the production's deficiencies.
Richard E. Grant as Henry Higgins appears unaccountably childish, particularly when he waves his arms about in his mother's home and when back at his office.
In addition, the acts don't flow well. There is a what-are-we-supposed–to-do-now moment when Eliza visits her father after she has become a lady, and the excellent dancers in Alfred Doolittle's drunken pre-marriage morning scene move in a way more appropriate for a Parisian Apache street then one in London.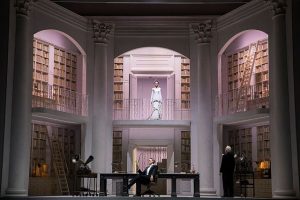 Set Designer Tim Hatley's Ascot scene, shown first in silhouette, perfectly emulated the stiff, no emotion can be shown, restraint expected of the British upper class and O'Hare was grandly shocking in her close encounter with the race and Mrs. Higgins friends.
However, that same stiffness seemed to pervade the production except for Hill's song and when Eliza encounters him outside Henry Higgens home.
The music, conducted by Broadway veteran David Chase, reminded audiences why "My Fair Lady" continues to be a draw more than 60 years after it debuted.
Directed by Olivier Fredj, the Lyric's show is the Robert Carsen production for Paris' Théâtre du Châtelet starring a new cast.
Details: 'My Fair Lady' is at the Lyric's Civic Opera House, 20 N. Wacker Drive, Chicago, April 28 through May 21, 2017. For tickets and other information call (312) 827-5600 or visit My Fair Lady.