HIGHLY RECOMMENDED
If you paint over a color you lived with for years would you be able to forget the original, familiar shade? What about your identity? If you identify your name with your family, could you comfortably give it up and adopt a different name and identity?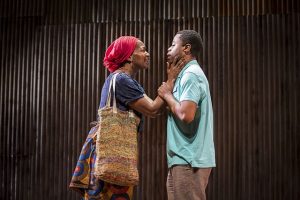 In 'Objects in the Mirror' now at Goodman Theatre, Shedrick Kennedy Yarkpai,  a young  man who escaped to Australia from war-torn Liberia with his uncle John Workolo's family, had to leave his mother,  Luopu Workolo, and adopt his dead cousin Zaza's name so that his uncle could use his name for another family member who also needed papers.
The name change haunts Shedrick throughout the play.
First, you learn that Shedrick, now in Adelaide, Australia, is hired by Rob Mosher, a liberal lawyer who works for children through the courts, to repaint a foyer wall. Mosher overpays Shedrick so he can afford to buy new clothes without feeling he is given charity.
Then, Shedrick tells his story about how he had to change his name when he became a refugee. The audience experiences the story with him as he recounts the dangers of crossing several African counties' borders and living in filth and sickness-filled refugee camps.
Eventually the small band of refugees have landed in a supposedly safe country. But even though life is better, family members encounter racial prejudice and their refugee status is questioned.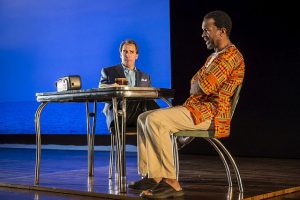 As the play ends, Shedrick who is preparing to leave Australia because his uncle thinks it is no longer a safe refuge, apologizes for not finishing the paint job. Rob tells him he already used five or six coats so the foyer is fine. Shedrick starts to tell him he can still see the original color.
"No," says Rob. "Underneath," says Shedrick.
Rob replies, "Yes, underneath but nobody can see it, nobody but you." He adds, "If you could only give it time, that memory will fade."
But Shedrick, who has a problem with an identity that is not his, doesn't want it to fade.
Watching the play written by Charles Smith, author of "Black Star Line" about Jamaican immigrant Marcus Garvey's Back to Africa movement and "Free Man of Color" about an ex-slave who attended Ohio University, is an emotional experience.
It reminds audiences that refugees not only have to face displacement when home is no longer safe, but they also face prejudice, legal status challenges and political change.
When his uncle whom he calls Papa want him to pack, Shedrick says he is tired of running and living on the edges of the world. "We stand in darkness watching the rest of the world bathing in the goodness of the light. But we can't get close enough to feel its warmth."
As to the play's title which refers to the warning on cars' outside mirrors,  the uncle tells Shedrick whom he continues to call Zaza that the danger is not "far behind us." He says, "The objects in the mirror are closer than they appear."
Smith's messages come across because its outstanding cast truly inhabit their characters.
Shedrick is portrayed by Daniel Kyri. His mother,  Luopu Workolo is exceptionally interpreted by Lily Mojekwu. Uncle John Workolo who becomes his "Papa" for immigration papers is brilliantly played by Allen Gilmore.
Breon Arzell does a very believable Zaza Workolo and Ryan Kitley is excellent as Rob Mosher whom Shedrick comes to trust as a sort of surrogate father. There is a struggle for loyalty and trust between Uncle "Papa" John and Mosher about what is best for Shedrick.
Audiences who read Goodman's  "On Stage" program before the show will know that Shedrick does fine because Smith based the play on a real person who has become an actor and playwright.
The production is superbly directed by Chuck Smith (not related to the playwright) and plays out against Riccardo Hernandez's intelligent, minimalist set effectively enhanced by John Culbert's lighting and Mike Tutaj's projections.
Details: 'Objects in the Mirror' is at Goodman Theatre, 170 N. Dearborn St., Chicago now through June 4 2017. For tickets and other information call (312) 443-3800 or visit Goodman Theatre.