The Chicago Cultural Center is an art destination in its own right if only for the gorgeous tile work at its Washington Street entrance and staircase or for its two spectacular glass domes.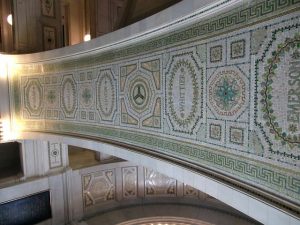 But there are always interesting art exhibits in its galleries on the first and fourth floor and sometimes on the second floor so when downtown Chicago make the Cultural Center a must-see stop.
Go up to the fourth floor's Sidney R Yates Gallery now through June 25, 2017 to be amazed at how doors can look when painted by an artist.
Done by Eugene Eda for Malcom X College in 1971, 32 spectacular doors stand tall representing the Black Art Movement of that period. Imagine doors as artistic as these gracing the stairwells of a college.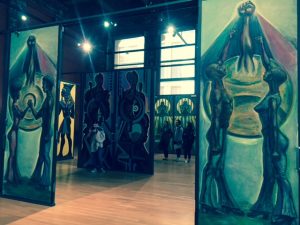 If interested to learn more about the doors and the artist stop in on June 14 at 12:15 for curator Daniel Schulman's Gallery Talk.
While there, go next gallery over to the Exhibit Hall to see "Candida Alvarez: Here."
Curated by Terry Myers, the exhibit is the first institutional showing of this Chicago artist. The broad patches of color in some of her works reflect the Puerto Rican influence of her parents' roots. Her work is also narrative. Alvarez's work is up through Aug. 6, 2017.
Down on the first floor, walk along the western corridor to view "The Pride and Perils of Chicago's Public Art."  Up through July 30, 2017, large photos and accompanying descriptions depict old statues and contemporary mural in different neighborhoods. Chicago has designated 2017 the Year of Public Art.
Details: The Chicago Cultural Center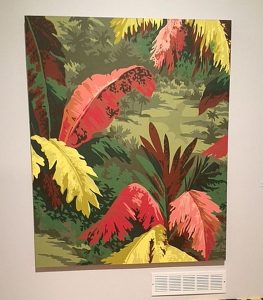 The building stretches from Randolph Street to Washington Street along the west side of Michigan Avenue.
Elevators on the Randolph side go up to the Fourth Floor galleries. The staircase on the Washington side  goes up to the Tiffany Glass Dome. For more information visit City of Chicago exhibits.
Photos by Jodie Jacobs