The City of Chicago is stirring some more exotic, well, at least, international and trendy, flavors into Taste of Chicago but is not neglecting comfort food or desserts or forgetting long-time faves.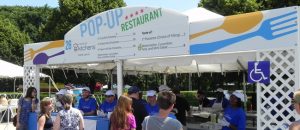 Settling in along Columbus Drive (closed for the event) in Grant Park will be 67 vendors that include these 17 new-to-Taste places: American Glory, Aztec Dave's Food truck, Ben's Bar Be Cue, Bob Bar Truck, Brightwok Kitchen, Broken English, Cheesie's Pub and Grub, Doom Street Eats, El Patron, Hakka Bakka Indian Kati Rolls, Just Salad, Lawrence's Fish & Shrimp, the Little Beet table, Seoul Taco, The Cajun Connoisseur, Ukai Japanese Restaurant and Warm Belly Bakery.
Just hearing the names of these "fooderies" is mouth-watering enough to put stars on the calendar for July 5-9, 2017. But Taste aficionados can still count on getting their ribs at Robsinson's, a slice of pizza at Lou Malnati's and dessert fix at Eli's Cheescake's booths.
Yes, the event has been billed as the world's largest free food festival but that just means no gate charge shape shifting into a crumb-snatching pigeon.  Food and beverages are gotten by handing over the number of tickets required for each item the  booths. Since a strip of 14 tickets cost $10, visitors would do well to purchase more than one strip.
However, checking out some of Chicago's wonderful culinary choices is just part of Taste. There are good bands, excellent celebrity chef dinners, wine and beer gardens, dance and art events and cooking demonstrations.
Tickets starting at $19 can be purchased now for concerts at the park's Petrillo Music Shell by Alessia Cara, Ben Harper & The Innocent Criminals, The O'Jays, Café Tacvba and Passion Pit.  There will also be local bands playing on the Bud Light Stage.
A different celebrity chef will do a three-course, sit-down dinner in an air conditioned tent each night. Tickets are $45 and must be purchased in advance.
For more Celebrity Chef dinner information and tickets and concert tickets visit Taste of Chicago.
Taste of Chicago, July 5-9, 2017, is in Grant Park on Columbus Drive from Monroe to Balbo.  Hours are 11am–9pm Wednesday through Friday and 10am–9pm on Saturday and Sunday.