There's another place to put on the must see list when visiting the Art Institute of Chicago.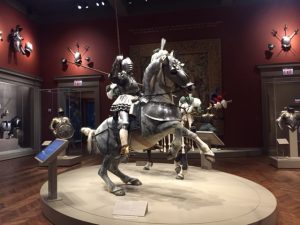 Tourists and regular Art Institute goers often have a must see stop when visiting the famed museum.
Some visitors head to the French Impressionist galleries while others go to the Modern Wing. The Thorne Miniature Rooms are also a draw as are such works as Edward Hopper's "Nighthawks" in the Modern American galleries that lead to Regenstein Hall's special exhibitions.
But now, the museum has redone a space for its armored horseback figures, swords and such altarpiece panels as Bernat Martorell's "Saint George and the Dragon."
Opened this spring, it's the Deering Family Galleries of Medieval and Renaissance Art, Arms and Armor, a gorgeous, Gothic-style space for nearly 700 items from the years 1200 to 1600. The museum has titled these displays "Saints and Heroes: Art of Medieval and Renaissance Europe."
Up on Level 2, a darkly mysterious archway sets a "Game of Thrones" tone as visitors step back in time in Galleries 235-239. Vaulted ceilings are reminiscent of chapels and great halls that once held the objects.
"Ayala Altarpiece," a 24-foot funerary chapel altarpiece from 1396 dominates the first room. "Saint George and the Dragon" is further along in another vaulted gallery.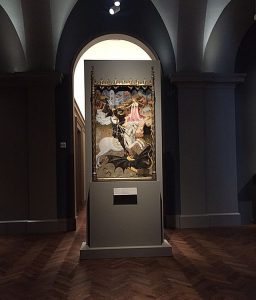 The great hall at the end of the space beckons with its impressive armored horseback riders but the galleries leading up to it are worth perusing. They offer clues on how some people lived from jewelry to art and dining.
After first walking through an arms-filled rotunda, patience is rewarded as visitors ooh and ah when stepping into the great arms and armor hall.
An armored horseback figure is ready to battle but look behind him. Another rider is dressed for sport. Snap the photos then gaze around and up. Two figures are battling on foot. More arms are displayed high above the figures.
There is one more gallery. It features fine firearms and hunt equipment.
Visitors who don't go through too quickly will see digital labels that are there for an interesting, interactive experience.
The  Art Institute of Chicago is at 111 S. Michigan Ave., Chicago. For hours, admission and other information call (312) 443-3600 and visit AIC.