At Goodman Theatre 
If you heard that Goodman Theatre's opening night for the world premiere of "Pamplona," a play by Jim McGrath that features Stacy Keach as Ernest Hemingway, stopped early, then don't worry. The Goodman put out the following notice:
"Goodman Theatre had to unexpectedly halt this evening's performance of Pamplona by Jim McGrath. The show's star, Stacy Keach, had not been feeling well earlier in the day, but made the decision to go on with the performance. When it became clear midway through that Mr. Keach was struggling, Director Robert Falls took the stage and announced that the performance would conclude. Performances are expected to resume as scheduled."
Gospel Fest
It may not seem as long as 32 years ago for Chicago to hold its Gospel Music Festival but considering that Chicago takes credit for gospel music it probably feels as if the genre has been around forever, at least in city area churches.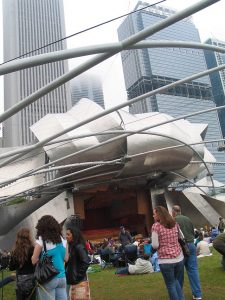 So, this weekend, June 2 and 3, 2017, the city is holding its 32 Chicago Gospel Music Festival. The concerts are on Friday. They are free and are taking place outdoors in Millennium Park and indoors (it may rain on and off those days) in the Chicago Cultural Center. Gospel music combined with workouts and wellness activities are on Saturday.
Here is the schedule but acts and times may change
June 2, 2017
Randolph Square area on the first floor of the Cultural Center
–       Noon is Iliani Morales, 12:40 p.m. is Selah St. Sabina Youth Choir
–       1:10 p.m. is R&R featuring Russ and Roe and 1:40 p.m. is Neicy Robertson and Friends
–       2:10 p.m. is "Chicago's Next" with 2ndNature Band, Isaiah Freeman, Jazmin Jones and Denton Arnell Harris and 3:20 p.m. is Arthur Sutton & The Gift of Praise
Millennium Park in the Jay Pritzker Pavilion
–       5:30 p.m. is Glenn Johnson & The Voices of Innerpeace and 6 p.m. is University of Illinois Black Chorus conducted by Ollie Watts Davis
–       6:40 p.m. is Malcolm Williams & Great Faith and 7:20 p.m. is Celebration of Gospel Music Quartets with Evelyn Turrentine-Agee and The Warriors, God's Posse, The Gospel Crusaders and The Stars of Heaven
–       8:30 p.m. is Jonathan McReynolds with special guests Anthony Brown and Travis Greene
June 3, 2017
Millennium Park's Great Lawn
– 7 a.m. is Gospel Music Yoga with instructor Marta Bailey and 8 a.m. is Gospel Music Cardio Workout with instructor LaTonya Ellis
– 9 a.m. is Pilates with an East Bank Club instructor and 10 a.m. is Zumba® also with an  East Bank Club instructor
In the North Promenade Tent at Millennium Park
–       11 a.m. to 5 p.m. is Health & Wellness Oasis with screenings offered by Oak Street Health and Be The Match
–       Also from 11 a.m. to 5 p.m. are children's activities in the Kids Activity Zone that include face painting, a balloon artist, Plaster of Paradise and the Imagination Playground
For more information visit Chicago Gospel Fest