The sounds of the Blues will be wailing on State Street and in Millennium Park. On Clark Street magicians astound in Uptown. And the Chicago theatre community understands when a one-man show has to cancel.
Muddy Waters Mural
 Stop by the west side of State Street between Randolph and Washington Streets noon Thursday, June 8, 2017 to hear about Muddy Waters and hear some fine blues.
The event dedicates the nine-story mural of blues legend Muddy Waters across the way at 17 N. State St.  He brought the Delta blues to Chicago where he turned it into his own Urban Blues sound that has influenced generations of musicians.
Along with some folks from the Department of Cultural Affairs and mural artist Eduardo Kobra,  Muddy Waters' daughter, Mercy Morganfield, will be there plus the Muddy Waters legacy Band of Mud and Big Bill Morganfield.
Also on hand will be Chicago Blues Festival headliners Billy Branch and Che "Rhymefet" Smith. (See Blues Festival here).
A pop-up shop will sell limited poster editions and other merchandise to benefit the Muddy Waters Foundation.
Chicago Blues Festival
Considered the largest free blues festival anywhere, the Chicago Blues Festival will take over Millennium Park with five stages 11 a.m. to 9:30 p.m., June 9-11, 2017. The venue is a change from Grant Park where the festival began in 1984.
On June 9  the festival stars Billy Branch & The Son of Blues with special guests Lurrie Bell, Freddie Dixon, J.W.S. Williams, Carlos Johnson, Carl Weathersby, Bill McFarland and Chicago Fire Horns plus Mae Koen & The Lights.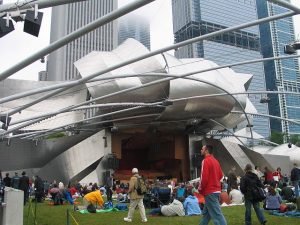 Headliners June 10 are William Bell, Theo Huff and the New Agenda Band and Nellie Tiger Travis. The festival closes June 11 with Gary Clark Jr., Rhiannon Giddens and Ronnie Baker Brooks.
The Chicago Blues Festival attracts about half a million music lovers. For more information visit chicagobluesfestival.
Chicago Magic Lounge
Old timers might recall Frank Everhart's Magic Bar at the Ivanhoe or remember when Chicago had other magic show venues. But the fascination that magic holds is still alive. The Chicago Magic Lounge has stepped in to fill the void.
Open now with shows every Wednesday, Thursday and Saturday night, the place is Uptown Underground at 4707 N. Broadway, Chicago.  Go Wednesday for the Mind Reading Show or Thursday or Saturday for close up magic and stage performances.
Admission is age 21 plus however age 16 will be admitted with guardian. For more information call (773-867-1946 and visit Chicago Magic Lounge.
Pamplona Update
Goodman Theatre plans to reschedule 'Pamplona' by Jim McGrath, according to a recently released statement.  A one-man show about Ernest Hemingway's final years, 'Pamplona' was starring long-time stage and screen actor Stacy Keach. However, after a successful week of previews, the opening night performance stopped more than half-way through when Keach became ill.
Goodman spokespeople said medical testing showed that Keach had suffered a mild heart attack and that doctors expected him to fully recover after rehabilitation and rest.
Artistic Director Robert Falls said in the statement: "On behalf of Stacy Keach, his family and the Goodman, we would like to extend our gratitude for all of the generous support and concern shown to Stacy this past week. I remain awed by Stacy's courage and strength after experiencing such a disturbing event; his spirits are high and he is resting and recovering comfortably. Jim, Stacy and I look forward to continuing our collaboration on 'Pamplona.''
People who already have tickets have a choice of a full refund or tickets to Eugene O'Neill's 'Ah Wilderness' which runs June 17 through July 23, 2017. They will be contacted by ticket representatives and can call (312) 443-3800.