HIGHLY RECOMMENDED
Put together George Gershwin's stirring music, Ira Gershwin's delightful lyrics, Craig Lucas' thoughtful book, Christopher Wheeldon's  exceptional choreography and direction and Bob Crowley' amazing set design.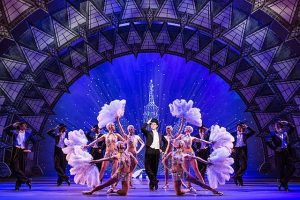 Then people their work with the fine dancing talents of McGee Maddox of the National Ballet of Canada and Sara Esty, former Miami City Ballet soloist.
Add in the excellent acting and vocal talents of Nick Spangler from Book of Mormon and of Adam Hockberg and Emily Ferranti from "Wicked.
With all that creativity and talent put into one show you'll have an evening to remember at 'American in Paris,' now at the Oriental Theatre through Aug. 19, 2017.
Based on the 1951 movie of the same name that won six Academy Awards, the musical follows just discharged American GI Jerry Mulligan (Maddox) in post-WWII Paris.
Deciding to stay in the City of Light to pursue an art career, he comes across Lise Bouvier (Esty) who in the musical show version is a ballerina working at a large department store but also auditions for ballets.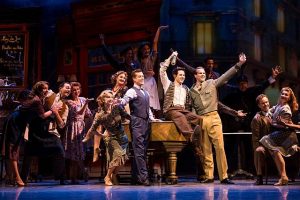 The show's story line of boy sees girl and tries to convince her he's her guy, is complicated by two others who are also smitten with Lise.
There is Hockberg (Benson), a musician who will write a ballet for her (who's likely George Gershwin) and Spangler (Henri), a not-out-of-the-closet-yet, son of an upper-class family that doesn't know he prefers dancing and singing to the family textile business.
The three guys become friends not realizing they all adore the same gal. But the so called "fly in the ointment" is Ferranti (Milo Davenport), a good-looking rich woman who is attracted to Jerry and convinces a ballet company to use his designs for a new ballet written by  Benson.
Watching their antics play out against the incredibly creative, moving set pieces and moving chalked-in designs is reason enough to go. But this a musical that takes advantage of Gershwin's jazz, classic and bluesy music with wonderful Gene Kelly-like movements in Act I (Kelly  played Mulligan in the movie opposite Leslie Caron's Lise) and a fabulous, romantic ballet pas de deux between Maddox and Esty near the end of Act II.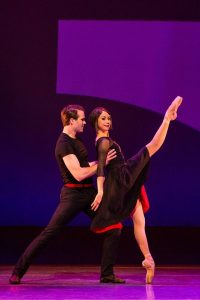 The musical's dance numbers are the creation of Wheeldon who transformed Chicago's Joffrey Ballet's  "Nutcracker" last year by reimagining it in time and place. Wheeldon picked up a Tony Award for best choreography with 'American in Paris.'
The musical is close to the movie but not identical. The movie and musical were inspired by Gershwin's 1928 "American in Paris " a composition he wrote after falling in love with the city.
It is tone poem (composition that tells a story or evokes the sounds and sights of a place the composer has in mind.) Think Claude Debussy's "Prelude To the Afternoon of a Faun" or Modest Mussorgsky's "Night on the Bare Mountain."
Gershwin has explained that his American enjoys the Parisian atmosphere and listening to its street sounds. He has also said that the blues section is a bit of homesickness that is soon relieved by Paris' atmosphere.
Movie songs not in the musical are "Embraceable You," "Nice Work If You Can Get It," "By Strauss," "This Time It's really Love" and "Love Is Here To Stay."
The songs and music in the musical not in the movie are "The Man I Love," "The Second Prelude," "The Second Rhapsody (Cuban Overture)," "Shall We Dance," "Fidgety Feet" and "They Can't Take That Away From Me."
Go to the show for the music, the songs you know, really excellent dance numbers and an impressive set design that brings Paris to life.
'AN AMERICAN IN PARIS' is at the Oriental theatre 24 W. Randol;ph St, Chicago now through Aug. 13, 2017. For tickets and other information visit BroadwayInChicago.