A visit to the Richard H. Driehaus Museum, a magnificent late 1900's mansion on East Erie Street, is a double treat.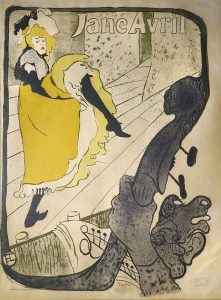 In 2016, the museum hosted an exhibit of Downton Abbey's fabulous costumes. The mansion's elaborate rooms which hold several items from Driehaus ' vast collection of decorative arts, perfectly fit the exhibit titled "Dressing Downton: Changing Fashion for Changing Times."
This year, the museum is featuring art of a different kind in "L'Affichomani: The Passion for French Posters."
Spread across two upstairs floors of the museum, the exhibit comes from Driehaus' own large collection of turn-of-the-last-century posters.
Dating from the Belle Époque of about 1875 to 1910, they show off the wonderful lines and colors favored by their artists: Henri de Toulouse-Lautrec, Alphonse Mucha, Jules Chéret, Eugene Grasset and Théophile-Alexandre Steinlen.

Of course as posters, they do more than serve as advertisements for particular artists. They advertise entertainers, products and events of the time. In doing so they turned the streets of Paris in art galleries while bringing together art and commerce.
So go for the exhibit, but stay to see the mansion. The Driehause collection includes Tiffany glass.
"L'Affichomani: The Passion for French Poster" Is at the Driehaus Museum, 40 E. Erie St., Chicago, through Jan. 7, 2018. For admission and hours call  (312) 482-8933 and visit Driehaus.