Late summer seems a time to get ready for back-to things such as school,a fall sport, workout classes if they stopped and volunteer activities. But August is also a good time to plan ahead to catch shows you'll want to see. With about 250 theatre companies in the area the season can be overwhelming without checking out some of the offerings ahead of time.
The last two round-ups of what's coming to area theatres were listings for the northern and western suburbs.
This one is for downtown Chicago. If you go you will find the venues have interesting, historic homes.
Next will be neighborhood Chicago theatres.  When you see how many shows are at each venue you'll understand how easy it is to miss one you really want to catch.
Auditorium Theatre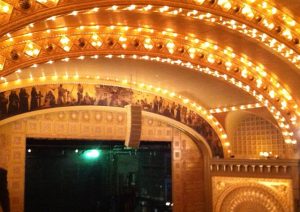 Louis Sullivan's iconic performing arts hall showcases productions by the Joffrey Ballet and other dance companies ranging from Shen Wei Dance Arts, Ensemble Espanol and Alvin Ailey to Les Ballets de Monte Carlos, Hubbard Street Dance Chicago, Ballet Nacional Cuba and Giordano Dance Chicago.
In addition, its season includes musical groups and singers such as Jonathan Lee, and the Jazz Gospel Messiah's "Too Hot to Handel."  In between are lectures, documentary presentations, comedians and tributes to pop and jazz stars.
Here is the Joffrey Ballet Schedule: Gisselle Oct. 18-29, Dec. 1-30, 2017, Modern Masters (George Balenchine, Myles Thatcher, Nicolas Blanc, Jerome Robbins) Feb. 7-18, 2018, Midsummer Night's Dream April 25-May 6.
For other production dates and the full calendar click Auditorium. The  Auditorium Theatre of Roosevelt University is at 50 E. Congress Parkway, (312) 341.2300.
Broadway in Chicago
Touring Broadway shows are typically in four venues: Cadillac Palace, 151 W. Randolph St., Oriental, 24 W. Randolph St.,  PrivateBank Theatre, 18 W. Monroe St. and Broadway Playhouse. Tickets are available at Broadway in Chicago and also Ticket Master by clicking on individual shows at Broadway Chicago and at the theatres' box offices. Also call (800) 775-2000.
Of course everyone knows that the mega hit, "Hamilton" is still in town at The PrivateBank Theatre. Tickes are currently available through April 29, 2018.
At the Cadillac Palace Theatre, Disney's "Aladdin" is there now through Sept. 10 followed by "Motown the Musical" Oct. 3-8 and "Les Miserable"  Oct. 11-29. Then there is "School of Rock" Nov. 1-19 followed by Irving Berlin's "White Chirstmas" Nov. 21-Dec. 3, 2017. "Beautiful – the Carole King Musical" returns to town, Dec. 5, 2017 and goes to Jan 28, 2018. The play, "The Humans," comes Jan 30-Feb. 11 followed by "Love Never Dies" Feb. 14-March 4. Then it's "On Your Feet!" March 21-April " followed by "Waitress," July 3-22.
At the Oriental Theatre "Escape to Margaritaville" is Nov. 9-Dec. 2, 2017.  "Wicked" is there Dec. 6-Jan. 21 2018 and "The Color Purple" goes on July 17-29, 2018.
At the Broadway Playhouse, "90210: The Musical" will be there Sept. 13- Sept. 17 followed by Ken Ludwig's 'Twas the Night Before Christmas" Nov. 11-Dec. 31. 2017. Also during that time is Gobsmacked" Dec. 5-10.
Chicago Shakespeare
The company has expanded its venue at Navy Pier to include The Yard so some of the shows are there and others in its regular hall. Check when buying tickets.
"The Taming of the Shrew is Sept.16 – Nov. 12 and James Thierrée's "The Toad Knew" opens The Yard Sept. 19 – 23. "Amarillo" is Oct. 17 – 29, 2017 and "Red Velvet" is Dec 1, 2017 –Jan 21, 2018. "Short Shakespeare – A Midsummer Night's Dream" is Feb 3-March 10, "Macbeth" is April 25-June 24 and "Waiting for Godot" is May 23- June 3, 2018.
For details visit Chicago Shakes and call (312-595-5600. Chicago Shakespeare is at 800 E. Grand Ave. on Navy Pier, Chicago.
Chicago Theater

The historic venue has something going on every weekend but some of the seasons highlights are Fleet Foxes, Oct. 3-4,Steve Martin and Martin Short Oct. 6-7, Tori Amos, Oct. 27 Dream Theater in contcrt, Images, Words and Beyond Mov. 3 An evening with the Avett Brothers Nov. 9-11 Celtic thunder  Symphony Tour dec. 7 Joe Biden American Promise tour Dec. 11 For more information visit Chicago Theater. The Chicago Theater is at 175 N State St. For tickets call (800) 745- 3000 or go to Ticketmaster.com.
Goodman Theatre
The Goodman starts fall with Arthur Miller's  "A View From the Bridge" Sept 9 – Oct 15 followed by Charles Dickens' "A Christmas Carol" Nov 18 – Dec 31, 2017. Rogelio Marinez' "Blind Date" (Ronald Reagan and Mikhail Gorbachev) is Jan 20- Feb. 25, 2018 followed by Henrik  Ibsen's "An Enemy of the People" Mar. 10-Apr 15. Emily Mann's "Having Our Say: The Delany Sisters' First 100 Years" is May 5-June 10 and Ellen Fairey's "Support Group for Men" is June 23-july 29.
In addition, Goodman's Annual New Stages Festival is Sept 20-Oct. 8. The  Festival features new works by Christina Anderson, David Cale, Mikhael Tara Garver, Rebecca Gilman, Ike Holter, Jose Rivea, Mat Smart and Bess Wohl.
Goodman Theatre is at 170 N. Dearborn St. For for information visit Goodman. or call (312) 443-3800.
Harris Theatre for Music and Dance
October features Sir John Eliot Gardiner, the Monteverdi Choir, and the English Baroque Soloists have announced an ambitious international tour, with concert performances of all three operas – L'Orfeo, Il ritorno d'Ulisse in Patria, and L'incoronazione di Poppea – and Rennie Harris Puremovement and Arias a dn Barcarolle by Lincoln center chamber music society .
Nov.  has "Hot Sardines" comeing. Cec. Brandenburg concertos. By lincon chentr chambermusic society . Jan Brian Brooks dance Companyh, and lc chanmber doing Brahms and dvorak . Feb American Ballet and chamber doing Vienna to Hollywood
March is Mark Morris dance group with the Silk Road Ensemle and then Christian Scott aTude Adjuah May is chamber duoing Tempost in C Minor.
The Harris Theater is at the north end of Millennium park at 205 E. randolph St. For tickets and more events visit Harris and call (312) 334-7777.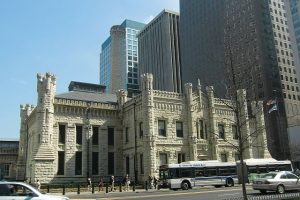 Lookingglass
Lookingglass is in the historic Water Works across form Water Tower Place. The theatre company is known for artistic innovation and interpretation that often includes gymnastics.
Next season features "Hard Times" Oct. 4, 2017 – January 14, 2018, "Plantation" Feb. 21 – Apr. 22 ending with "20,000 Leagues Under the Sea" May 23, Aug. 19, 2017.
Lookingglass Theatre is at 821 N Michigan Ave, Chicago, IL 60611. For tickets and more information visit Lookingglass or call (312) 337-0665.
Take a look and enter it on the calendar so you don't miss a great show.