RECOMMENDED
It is always a treat to see longtime Steppenwolf actors John Mahoney or Francis Guinan in a play. In 'The Rembrandt,'  now in Steppenwolf's Upstairs Theatre, audiences get both outstanding actors.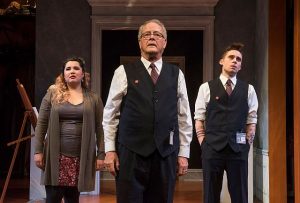 Written by playwright/actor Jessica Dickey, the premise  seems to be that art in a museum may affect viewers whether they are guards or visitors, not just differently, but also on a more sublime level.
Guinan as Henry, a museum guard whose duties include looking for any problem nicks, can imagine the paintings coming alive at night. He thinks their artists may even converse with each other.
Gabriel Ruiz as gun-carrying security guard Jonny, is Simon's friend but he sees his job as protecting the paintings.
The two approaches clash when Henry is encouraged to touch the Rembrandt by both a new, rule-defying, apprentice/guard, Dodger, played by Ty Olwin, and by copyist Madeline, portrayed with humor by Karen Rodriguez.
That happens even though Madeline earlier discouraged such an idea when proposed by Dodger because fingers contain harmful substances.
After discussing elements of the painting the three of them do touch it. The next scene is in Rembrandt's house. It's as if touching the painting  opened a portal to its historic past.
A note about historic accuracy: 17th century Dutch Master Rembrandt van Rijn did favor the black and muted colors except for his famed luminescent whitish tones as mentioned in the play. But unlike the reference to blue, he did use blue shades though primarily in his biblical and mythological subjects.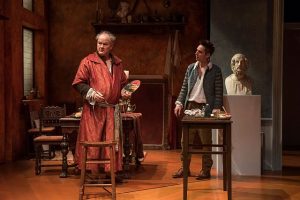 And yes, in spite of the nice commissions given to this master painter, he did over spend so ended up in debt as referred to in the play.
The portal idea continues when Olwin, now Rembrandt's son, Titus, touches a bust of Homer that supposedly was in the painting and in Rembrandt's home.
The next scene is a soliloquy by Mahoney as Homer expounding on the merits of poetry.
The final scene is at Henry's home where he is disconsolate with grief and guilt as he sits at the sick bed of his longtime partner, Simon (Mahoney) who is dying with stage four cancer.
That scene clarifies the play's underlying themes of grief, death and love.
Madeline had taken the art course that brought her to the museum because the grandmother who cared for her had become ill and recently died.
She felt love, grief and also guilt that she thought death was OK because her grandmother had deteriorated so much.
Henry who dearly loved Simon, experienced remorse for not being a more considerate partner when Simon was healthy.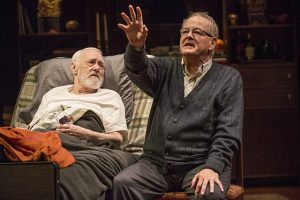 In the Rembrandt home scene, Rodriguez who is now Rembrandt's lover, Henny, demonstrates her love and Titus expresses love for his father while remonstrating against his spending excesses.
Well directed by Hallie Gordon with excellent set design by Regina Garcia and fine costume design by Jenny Mannis, the play raises interesting ideas to ponder about art and personal relationships.
'The Rembrandt' is at Steppenwolf's Upstairs Theatre, 1650 N. Halsted, Chicago, through Nov. 5, 2017. Francis Guinan is Henry and Rembrandt through Oct. 22. The role will be then be taken on by Joe Dempsey through the last performance. For tickets and other information call (312) 335-1650 and visit Steppenwolf.