RECOMMENDED
There is no question that Goodman Theatre has opened its 2017-18 season with a very special production of Arthur Miller's 'A View From The Bridge.'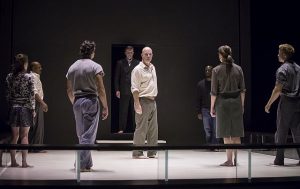 How you feel about this production will depend on whether you are comfortable with an intense, minimalist concept as developed by Director Ivo Van Hove within a severe black box, or if you relate better to a story told on a stage with scenery and possibly video and other set accoutrements that establish time and place.
Set in an Italian American area near the Brooklyn Bridge in a 1950's America that is not immigration-friendly (sound familiar?), the play is supposedly based on a true tragedy.
Its theme, a married man becoming so obsessed with a niece living with them that he will go to any lengths to ward off possible suitors, belongs in the Greek Tragedy genre.
Take away the wife's illegal Italian family members who have come to live with them, and the story is still about a husband's obsession.
Similar to a Greek play, the show opens with the sounds of a beautiful but foreboding chorus. However, it is not the chorus that explains the action but Alfieri, interpreted perfectly by Ezra Knight.
Alfieri is an attorney who notes that dissatisfaction and disagreements are supposed to be handled by a lawyer as a bridge that meets halfway between combatants.
When Eddie (Ian Bedford), a dock worker who tries to keep his niece, Catherine  (Catherine Combs), first from taking a job, and then from going out with Rodolpho (Daniel Abeles), one of the two relatives who are staying with them, he learns from Alfieri that he can't stop them from dating.
Eddie's wife, Beatrice (Andrus Nichols) who can see what is happening tries to intervene but to no avail.
Eddie is told that the only action might be to report his wife's cousins, Rodolpho and Marco (Brandon Espinoza) to immigration but he knows he will then become a pariah in the Italian community if he does so.
Low, ominous sounding background music plus the elimination of any intermission between the play's two acts, heightens the feeling of doom.
DETAILS: "A View From The Bridge" is at Goodman Theatre, 170 N. Dearborn St., now through Oct. 22, 2017. Running time : 2 hours. For tickets and other information call (312) 443-4800 and visit Goodman Theatre.