RECOMMENDED
A Drag Queen walks into a bar. That may sound like the beginning of a joke. But when Drag Queen, Miss Tracy Mills, played with verve and empathy by Sean Blake, struts into his cousin's bar in Panama City, FL, he changes the life of Casey, an impoverished Elvis impersonator.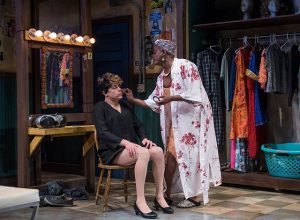 The story, a play written by Matthew Lopez now at Northlight Theatre, is 'The Legend of Georgia McBride,' a fun, revelatory, entertaining show on how a person can adapt to a new persona and enjoy it.
Casey, interpreted brilliantly by Nate Santana, loves performing as Elvis but his act doesn't pay the rent and wife Jo (Lesle Ann Sheppard) has announced she is pregnant.
While changing for his Elvis act, Casey is surprised when Tracy walks in ready to go on stage. Bar owner Eddie, played with bumbling charm by Keith Kupferer, hasn't yet told Casey that he's being replaced because his Elvis act isn't drawing well.
In a star-is-born style success story, the other half of Tracy's act, Rexy, delightfully acted by Jeff Kurysz with a mix of Italian and French accents and words, falls down drunk so can't go on.
Casey not only doesn't want to put on a dress, he also doesn't believe he can perform in drag. When told that filling in for Rexy is the only way he will perform in this bar and that he might even take home some cash, he lets Tracy dress him and add his make-up and a wig.
The transformation doesn't happen overnight but becomes easier and better with each performance until Casey realizes he enjoys performing on stage as the bar's newest Drag star.
Rachel Laritz's costumes help make the show believable and fun to watch. Choreographed by Chris Carter, the bar acts of Casey as Georgia McBride and that of Tracy make the time go so quickly it's a surprise when the play ends.
The kicker is that even though he is bringing home more than enough money now to pay the bills and really enjoys what he is doing, Casey has trouble telling Jo about his job. He is afraid to say he is performing in a Drag show.
Maybe he needed something such as Northlight's program which exlains several terms used by Drag performers.
For Drag Queen, it says "someone who performs femininity theatrically. In many cases this term refers to a man who dresses up as a woman for entertainment purposes."
Directed by Lauren Shouse, the play provides nice behind-the-scenes insight into Drag dressing and performing.
DETAILS: 'The Legend of Georgia McBride' is at Northlight Theatre, 9501 Skokie Blvd., Skokie, through Oct. 22, 2017. Running time: 1 hour, 45 min. with no intermission. For tickets and other information call (847) 673-6300 and visit Northlight.