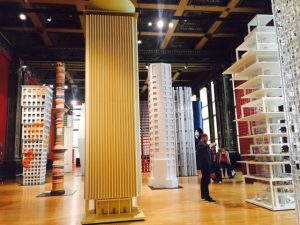 Maybe you think the Tribune tower is a landmark rather than an example of innovative architecture and wonder what it could have been.
Or, maybe you would like to take a free ride out of state for a day to see innovative Frank Lloyd Wright.
Both maybes become actualities curing the Chicago Architecture Biennial (CAB).
Chicago, known throughout the world as an architecture destination, becomes even more so every two years when it holds its  architecture exhibition.
As good as the first CAB experience was in 2015, the second foray is even more impressive. Chicago Department of Cultural Affairs and Special Events, host of the 2017 Architecture Biennial, has pulled together some surprising exhibits, excellent programs and interesting tours.
They are free, open to the public and are at the Chicago Cultural Center and some off-site locations.
At the Cultural Center they revolve around the theme of "Make New History." Thus there is the 'Vertical City' of 16 foot-high towers that could have housed Chicago Tribune executives and staffers instead of the Gothic landmark that won a 1922 competition.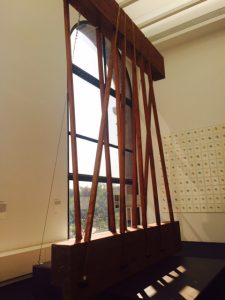 Also at the Cultural Center is a display by Chicago fave Jeanne Gang and her Gang Studio and works by architectural and design firms from 20 countries that present possible redesigns of structures that already exist around the globe.
In addition, architectural elements have been added to the Cultural Center's corridors. Visitors will find them in some very unlikely places on the main floor  and second floor.
CAB also features Chicago Architecture Foundation and other organizations' programs worth putting on the calendar.
Among off-site venues is SC Johnson & Son's extraordinary Frank Lloyd Wright buildings in Racine, WI, available by free shuttle from the Cultural Center.
BTW, the exhibits at the Cultural Center are so good visitors ought to plan enough time to enjoy and contemplate or return for a second view.
DETAILS: The Chicago Architecture Biennial is at the Chicago Cultural Center, 78 E. Washington St., Chicago, now through Jan. 7, 2018. For more information visit CAB. Also see Programs and Tours.