Chicago's gift bag of holiday shows has something for everyone from Scrooge's dreams  and dreaming of a white Christmas to Santa's naughty and nice lists and his overgrown Elf.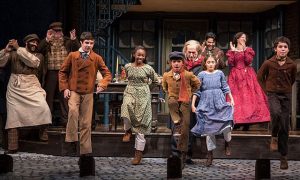 Already Playing
'TWAS THE NIGHT BEFORE CHRISTMAS,' a Ken Ludwig's Emerald City Theatre production, is at the Broadway Playhouse now through Dec. 31. The show is a a fun take on Santa's list which mysteriously disappears and how it is recovered in time for his gift deliveries.At just 45 minutes long, the show is perfect for elementary age youngsters. The Broadway Playhouse  is at Water Tower Place 175 E. Chestnut. For tickets and other information visit Broadway in Chicago Twas.
'Scrooge And The Ghostly Spirits,' is a new musical for the entire family based on Charles Dickens' "A Christmas Carol." Written by Douglas Post, it is at Citadel Theatre Nov. 17 through Dec. 23. Citadel is in a Lake Forest School property at 300 S. Waukegan Rd., Lake Forest. For tickets and other information call (847) 735-8554 or visit Citadel Theatre.
'A Christmas Carol,' a beloved Goodman Theatre creative but traditional holiday retelling of Charles Dickens' classic, goes from Nov. 18 through Dec. 31. Goodman Theatre is at 170 N. Dearborn St., For tickets call (312) 443-3800 or visit Goodman Theatre
(The non-ballet) 'Nutcracker,' a House Theatre production is at the Chopin Theatre. It does use dance and songs to tell the story. The show runs now through Dec. 30 at The Chopin Theatre, 1543 W Division St. For tickets visit House Theatre.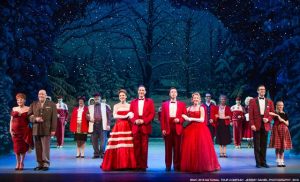 Coming Thanksgiving week
'White Christmas,' Irving Berlin's classic musical is at the Cadillac Palace Theatre Nov. 21 through Dec. 3. The Cadillac Palace is at 151 W. Randolph St. For tickets and other information visit Broadway In Chicago.
'Q Brothers Christmas Carol,' a very hip hop take on Dickens' story is in The Yard at Chicago Shakespeare  on Navy Pier,  Nov. 21- Dec. 31. For tickets visit ChicagoShakes.
'Elf: The Musical,' based on the 2003 Will Ferrell movie, is at the Paramount Theatre, 23 E. Galena Blvd, Aurora, Nov.  22, 2017 through Jan. 7, 2018. For tickets and other information call (630) 896-6666 or visit Paramount Aurora.
'The Christmas Schooner,' a moving, true-story musical that has become a Chicago tradition is at the Mercury Theater, 3745 N. Southport Ave., Nov. 24 through Dec. 31. For tickets and other information call (773) 325-1700 and visit Mercury Theater.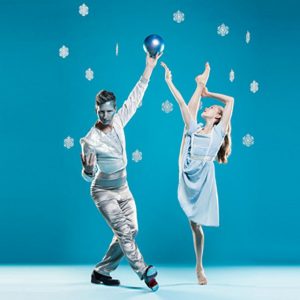 On stage from the beginning of December
'The Nutcracker,' The Joffrey's re-imagined production of Tchaikovsky's ballet, choreographed by Christopher Wheeldon is at the Auditorium Theatre Dec 1-30. The Auditorium Theatre is in Roosevelt University at 50 E. Congress Parkway at Michigan Avenue. For tickets visit Joffrey.
Appearing later
'Tidings of Tap' presented by the Chicago Tap Theatre is at the North Shore Center for Performing Arts at 3 p.m. Dec. 10, only.  The venue is at 9501 Skokie Blvd, Skokie. For tickets and other information visit Tap.
'Peter Pan' is a delightful Music Theater Works (formerly Light Opera Works) musical based on J.M. Barrie's play. It will run at cahn auditorium, 600 Emerson St., Evanston, Dec. 23, 2017 through Jan.1, 2018. For tickets call (847) 920-5360 or visit Music theater Works.
Enjoy the season!
Jodie Jacobs