HIGHLY RECOMMENDED
Even if you have seen Charles Dickens'  "A Christmas Carol" before at Goodman Theatre, the current production is a show not to be missed. It has aged like fine wine.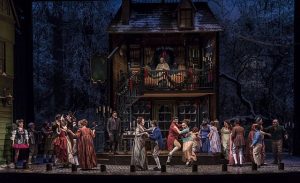 On its 40th anniversary, the Goodman production was perfect from Todd Rosenthal's set, Keith Parkham's lighting and Heidi Sue McMath's costume design to appropriately scary, tear jerking and joyous scenes played by many "Christmas Carol" regulars.
Right from the start, you feel the holiday spirit while walking into the lobby and hearing carolers serenading from the balcony (at scattered performances).
The singers were terrific but opening night was even more special as it was filled with an audience that appreciated each scene, ghostly special effects and actors' monologues with enthusiastic applause.
In his 10th year as Scrooge, Larry Yando was at his bah humbug best in the first third of the play and delightfully nutty with joy as a reformed Scrooge in the last third. In between you felt his gradual character change.
Molly Brennan, the Actors Gymnasium's director of physical theater, was fun to watch as she managed her flying apparatus as Christmas Past with acrobatic ease. She guided Scrooge with empathy to his school yard and past employment at Mr. Fezziwig's establishment.
In the Fezziwig scenes Kareem Bandealy, as Scrooge as a Young Man, believably battled with his character's interest in money, choosing it rather than love.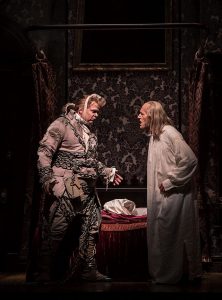 Lisa Gaye Dixon once again portrayed Christmas Present with an appreciation of holiday abundance.
It was balanced with dart like precision when Dixon threw Scrooge's bad attitude towards holiday giving back in his now drooping face.
Breon Arzeli was imposing as the deathly, towering figure of Christmas Future.  Of course, by this time Scrooge is ready to do anything to make amends for his anti-humanity outlook.
He now understands what the Ghost of Jacob Marley, perfectly portrayed again by Joe Foust, said when admonishing him that humanity was his business, not the business of money changing.
He now cares about his clerk, Bob Cratchit, played with humor and tenderness by Ron E. Rains, and for Tiny Tim, portrayed by a girl for the first time here, fourth-grader Paris Strickland.
On another note, the live on stage music plus the singing and dancing bits really added to the show's uplifting aura.
Adapted by Tom Creamer and directed by Henry Wishcamper, Goodman Theatre's "A Christmas Carol" is not just for youngsters. It really is a show for the entire family.
On opening night, the joy didn't end with the first curtain call.  Artistic Director Robert Falls, walked out, mike in hand, to bring on stage more than 40 past participants in Goodman's "A Christmas Carol."
By the way, some attendees tend to collect play programs. However,  this edition of Goodman's "On Stage" should be kept even if not a collector. It contains, history and important notes.
DETAILS: "A Christmas Carol" is at Goodman Theatre, 170 N Dearborn St, Chicago, through Dec. 31, 2017. Running time: 2 hours, 15 minutes with intermission.
For tickets and other information call (312) 443-3800 and visit Goodman Theatre.
Jodie Jacobs
For more shows, visit TheatreinChicago