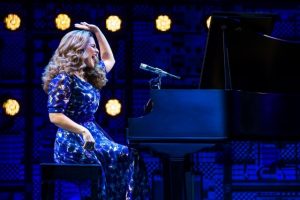 HIGHLY RECOMMENDED
It's a love story, a tale about friendship and a jukebox musical that will have you singing right along. 'Beautiful – The Carole King Musical' ¬tells the inspiring story of singer-songwriter Carole King from her teenage passion for composing music to becoming an award-winning solo performer. Co-writing with partner and then husband, Gerry Goffin, this prolific team wrote some of the most popular songs of the 60s and 70s era – "Will You Still Love Me Tomorrow," "The Locomotion," "One Fine Day" and so many others.
Most of their hits were performed by other artists, launching their success…like "Pleasant Valley Sunday" by the Monkees, "A Natural Woman" by Aretha Franklin and "Up on the Roof" by the Drifters. Not until Carole finally had the strength to go solo with her 1971 hit album, "Tapestry," was her own voice finally heard.
The music of friendly competitors and best friends, Cynthia Weil and Barry Mann, also made up part of the story with their own popular hits like "Walking in the Rain," "We Gotta Get Out of this Place" and "You've Lost that Lovin' Feeling."
More than 400 of Carole's compositions have been recorded by over 1,000 artists, earning six Grammy awards. Many audience members were surprised at the sheer number of songs she composed.
The book was written by Tony and Academy Award-nominee Douglas McGrath, directed by Marc Bruni with high-energy choreography by Josh Prince. Outstanding set design that moves with total precision was by Derek McLane.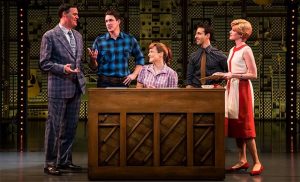 This National Tour of Beautiful featured the excellent Sarah Bockel as Carole, whose sheer energy and enthusiasm was absolutely infectious. Her beautiful voice and pure joy had the audience celebrating her triumphs and sharing her pain. Andrew Brewer as the troubled charmer, Gerry Goffin, carried the role with strong vocals and a confident swagger. Funny, poignant and heart-breaking, the show will have you leaving the theatre singing, truly a love song to Carole King.
Details: 'Beautiful' is playing at The Cadillac Palace Theatre, 151 W. Randolph Street, Chicago through January 28. Running time: 2 hours, 30 minutes with intermission.
For tickets and other information, call Broadway in Chicago Ticket Line (800) 775-2000 or visit BroadwayinChicago.com.
Mira Temkin
For more shows, visit TheatreinChicago.com.