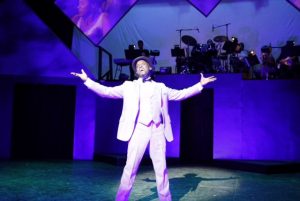 Highly Recommended
Considered the world's greatest entertainer, Sammy Davis Jr could do it all…sing, dance and act.
Through both dramatic interpretation and high-energy tap dancing, the Black Ensemble Theatre brings this star to life in 'Sammy: A Tribute to Sammy Davis Jr.' now through Jan. 21, 2018.
In this dynamic musical revue, the entire cast pays homage to the legendary talent as well as his commitment to fighting bigotry and racism.
Written and directed by Daryl D. Brooks, the show tells the story of Sammy Davis Jr. who started out dancing with his parents at age 2 in vaudeville, through his success in Las Vegas to his achievements on Broadway, films, television and record albums.
The outstanding on-stage hoofing was choreographed by Rueben Echoles, who also appears in the show. Featuring Michael Adkins, Kenny Davis, Dwight Neal, Nathan Cooper, Mark Yacullo, Trequon Tate, and Brian Boler, the cast sings and dances their way through Sammy's greatest hits.
Not to be undone are the talented ladies who belt it out and narrate the story: Rhonda Preston, Emily Hawkins, Kylah Williams and Linnea Norwood.
Songs like "Birth of the Blues," "Candy Man," "Mr. Bojangles" and "I Gotta Be Me" infused with a contemporary beat brought back so many memories.
The performers were accompanied by a live 7-piece orchestra perched above the stage with musical direction by Robert Reddrick.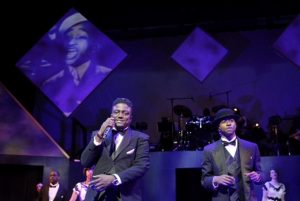 The audience enjoyed seeing the Rat Pack on stage once again, mesmerized by the music of Ole Blue Eyes himself, Frank Sinatra (Cooper) and the King of Cool, Dean Martin (Yacullo) who played their roles with suave sophistication. And they were saddened by Davis' personal setbacks. Interspersed throughout the play were stories of Jim Crow laws, where Davis could perform at the Las Vegas hotel, but couldn't stay there.
The show,  produced by Black Ensemble Theatre Founder and CEO, Jackie Taylor, is a wonderful tribute to an amazing artist and humanitarian.
DETAILS: Sammy – A Tribute to Sammy Davis Jr is playing at the Black Ensemble Theatre, 4450 N. Clark St., Chicago through Jan. 21, 2018. Running time: Approximately 2 hours with intermission. For tickets, and other information, call 773-769-4451 or visit Blackensemble .
Look for the 2018 season to kick off with 'Hail, Hail Chuck – A Tribute to Chuck Berry' running February 17 – April 1, 2018.
Mira Temkin
For more shows, visit TheatreinChicago.com