RECOMMENDED
Every child who hears the words from the song, "I won't grow up" can relate to Peter Pan who runs away from home so he doesn't have to grow up.
Originally produced on Broadway in 1954, 'Peter Pan' has been a traditional favorite in its many incarnations on TV and the live stage throughout the years.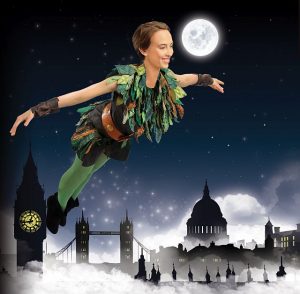 Bring your children as well as your inner child to the Music Theater Works (formerly Light Opera Works) to see this wonderful production of 'Peter Pan,' now through Jan. 1, 2018.
This family classic includes the songs "I Gotta Crow," "I Won't Grow Up," "I'm Flying" and "Neverland" accompanied by a full orchestra.
'Peter Pan' is directed by Music Theater Works artistic director Rudy Hogenmiller, conducted by music director Roger L. Bingaman and choreographed by Clayton Cross.
The sets are purely magical and depict the wonderful imagination of Adam Veness (scenic) and Robert S. Kuhn (costumes).
Aubrey Adams as Peter can sing, dance and keep up with the Lost Boys. She brings high energy and excitement to the role.
The remarkable Larry Adams shines in his role as irrepressible Mr. Darling/Captain Hook, especially as Captain Hook who lives in fear for the time-ticking crocodile.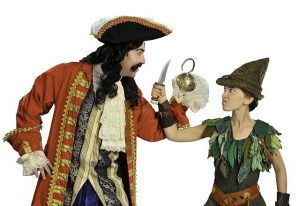 Stand outs include Elizabeth Stenholt (Wendy Darling/Jane) with her beautiful, sweet voice, Anna Marie Abbate (Tiger Lily) and Cary Lovett (Smee).
The children in the audience were completely mesmerized by Peter and the Darling children as they flew through the air. I heard one child say, "Are they really flying?"
The antics of the Lion, Kangaroo, Ostrich and of course, Nana the dog, brought gales of laughter from the children.
Bring your family and share the 'Peter Pan' you loved as a child with your own youngsters.
'Peter Pan' is Music Theater Works' final production of 2017. The 2018 season will begin with 'The Pirates of Penzance' (June 9-17), and continues with 'Anything Goes'  (Aug. 18-26), the concert performance 'Judy Garland: Come Rain or Come Shine 'starring Angela Ingersoll (Oct. 5-14) and 'Into the Woods'  (Dec. 22-31).
DETAILS: 'Peter Pan' is a Music Theater Works production at Cahn Auditorium,  600 Emerson St., Evanston. Running time is 2 hours 30 minutes with two intermissions. For tickets or for more information, call  (847) 920-5360 or visit Music Theater Works.
Mira Temkin
For more shows, visit TheatreinChicago.