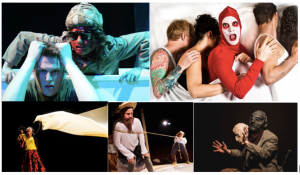 Chicago's sophisticated theater audience has seen and admired gymnastically able actors, puppetry and story-telling-style body motions at such influential theater venues as Lookingglass, Chicago Shakespeare and Writers Theatre.
However, the Physical Festival Chicago, coming to Stage 773 June 1 through June 9, 2018, is a chance to see what is happening in those and other exciting genres on the international and Chicago scene.  
Among the productions are "Nobody's Home" by United Kingdom's Theatre Témoin and Grafted Cede that places PTSD into Homer's Odyssey, solo puppet and mask performances by Theatre Zarko's (Evanston) Michael Montenegro and Franco-Brazilian Gael le Cornec's thriller "The Other."
"It's all original work created by each company," said Marc Frost who co-founded the festival in 2014 with wife Alice da Cunha. They met in London while studying at London International School of Performing Arts. Commonly known as LISP, the school recently relocated in Berlin.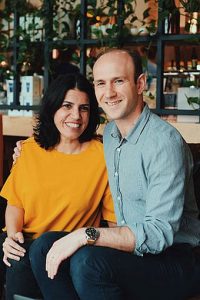 Chicago audiences may have seen da Cunha in House Theatre's Jeff award winning "United Flight 232." Frost will be bringing the national touring company of Theater Unspeakable's two current productions, one about the American Revolution and the other a moon shot, to the Kennedy Center fall, 2018.
Theater companies from around the world who apply each year are curated by the couple to bring a balance of genres.
"It can be puppets. It can be bouffon," said da Cunha.
They explain that Michael Montenegro is a puppeteer but his Theatre Zarko is not traditional and Gael le Cornec uses projections and shadow puppetry in "The Other." Bouffon is the late night show "The Red Bastard: Lie With Me."

Frost said, "We have said physical to start with but now have added visual and contemporary. We are trying to bring to Chicago shows of the kind not seen very often." 
He liked that an actor's body could become scenery and or props to tell a story. In "The ingenious Gentleman Don Quixote de la Mancha" by the Spain/UK-based Little Soldier Productions, an actor uses his body to put across the Cervantes' tale.
"He is using the body to express much of the text. It shows what the body can express," said Frost.
Physical Festival also includes workshops. Among them "How to audition for "Cirque du Soleil"  and one by le Cronec on how to create a solo work.
"It's a festival experience,"  said Frost.
Physical Festival Chicago is at Stage 773 is at 1225 W. Belmont Ave., Chicago, June 1-9, 2018. For show listings and tickets, visit Physical Festival/shows. For workshop information visit Physical Festival/Workshops. 
Jodie Jacobs