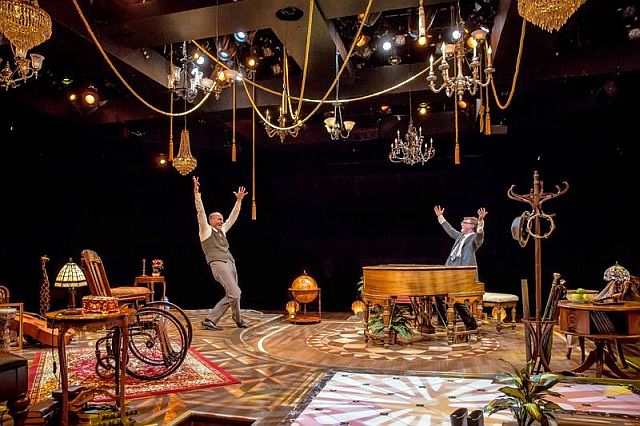 RECOMMENDED
"Murder for Two," creatively staged and directed by Scott Weinstein at Marriott Theatre, will delight audiences seeking light, hilarious comedy. A fast-paced musical with book and lyrics by Joe Kinosian and Kellen Blair, the show revolves around which guest at a surprise birthday party shot the guest of honor, a successful novelist.
The kicker is that it is a two-actor show where one person plays the suspects and the other is a policeman who wants to nail the perpetrator so he can be promoted to detective status.
As to motivation, it turns out that most of the suspects used the same psychiatrist and he fed the novelist with patients' secrets for each best sellers.
What makes this show fun is the breathless pace of Jason Grimm as he transforms himself into female and male suspects while alternatively playing the piano with Noel Carey, the investigating cop, Marcus Moscowicz. Then there is Scott Davis' item-jammed, rotating stage which is almost a character in itself.
The first hour is a laugh-a-minute hoot, let the puns and rhymes fall where they may. By the last 15 minutes of this 90-minute farce, audiences may be excused if they don't care who shot the novelist. Probably it doesn't matter anyway because this isn't "Murder She Wrote." It's a hilarious theatrical bit that is perfect for summer and that shows off the amazing talents of Carey and Grimm.
"Murder for Two," is at Marriott Theatre, 10 Marriott Drive, Lincolnshire, through Aug. 26, 2018. Running time: 90 minutes, no intermission. For tickets and other information call (847) 634-0200 and visit Marriott Theatre.
Jodie Jacobs
For more shows visit Theatre in Chicago