To report that Leonard Bernstein's "Mass," performed under the baton of Marin Alsop and directed by Kevin Newbury at Ravinia Festival July 28, received a long standing ovation would merely relate the overwhelming response to this seldom done, lesser known work.
Even though it is an appropriate bow to Bernstein on the anniversary of his 100th birthday, it is hoped that "Mass" will be presented more often.
Commissioned by Jacqueline Kennedy for the 1971 Kennedy Center opening, "Mass" goes way beyond a tribute to John F. Kennedy and his religion. As Bernstein's daughter, Jamie Bernstein, explained during a pre-concert talk Saturday, the work is autobiographical.
The music is really a journey that takes the audience from dutiful respect to protest, from moody contemplation to rapture, from disbelief and madness to acceptance and peace.
At Ravinia, it was accomplished through the extraordinary interpretation of Brazilian operatic baritone Paulo Szot as the Celebrant.
The operatic world knows of Szot through his appearances at the Metropolitan Opera, La Scala and other houses. But he is also perfect for the Bernstein Celebrant role because "Mass" is described in its subtitle as  "A Theater Piece for Singers, Players and Dancers. Szot received the Tony Award for Best Performance by a Leading Actor in a Musical for his performance as Emile De Becque in the 2008 revival of "South Pacific."
But this is a also a work best performed with several singers, musicians and several talented players.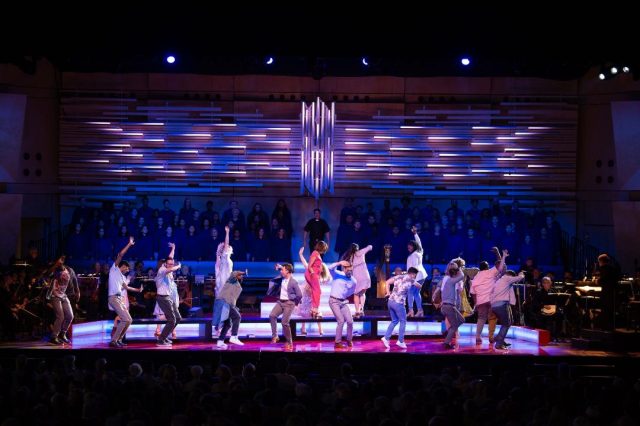 To fill those roles Ravinia pulled in the Chicago Children's Choir, the Highland Park High School Marching Band and a really fine "Street Chorus" of Sumayya Ali, Aaron Blake, Matt Boehler, John Clay III, Nicholas Cunningham, Alexander Elliot, Erica Everett, Nicole Fragala, Devon Guthrie, Devin Ilaw, Morgan James, Alexa Jarvis, Mykal Kilgore, Meredith Lustig, Timothy McDevitt, Michael Maliakel, Barrie Lobo McLain, Kaitlin Mesh, James Onstad, Michael Preacely, Isabel Santiago and Karim Sulayman.
A shout-out has to go to Altar Children Wyatt Parr and Myra Sahal. It was Parr's "Lauda, Laude" that brought peace to the Celebrant and congregation on stage and wonderment to audiences on the grass who didn't catch everything happening on stage.
However, it was the brilliant interpretation of Bernstein's conflicting, pensive and joyous mood swings by the Chicago Symphony Orchestra under Alsop that moved the journey along.
Sadly, Ravinia's "Mass" was a one-night experience but there are two more Bernstein programs on the schedule this summer. "Bernstein and Friends" will present songs and arias by Nadine Sierra and Michael Fabiano in the Martin Theatre, Aug. 10 that includes two Bernstein pieces.
Then Marin alsop will return to the Pavilion on Aug. 19 with the CSO playing the First Symphonies of Bernstein and Mahler.
Ravinia Festival is at 418 Sheridan Rd., Highland Park. For tickets and other information call (847) 266-5100 and visit Ravinia Tickets.
For the complete Ravinia schedule visit Ravinia Calendar.
Jodie Jacobs
Related: Massive Bernstein "Mass" comes to Ravinia
: