HIGHLY RECOMMENDED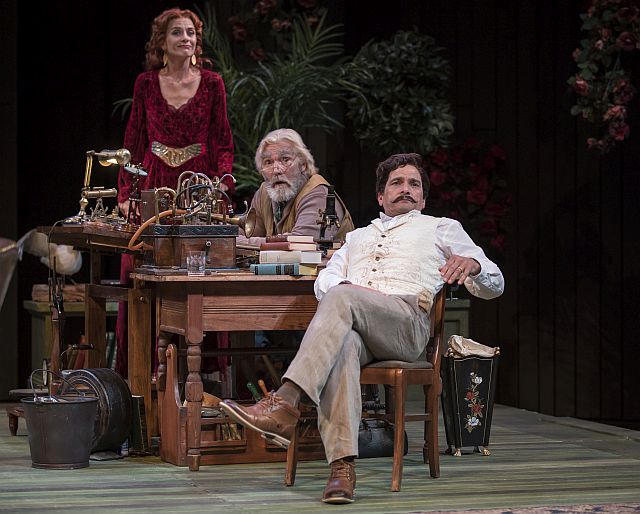 Watching "Heartbreak House" at American Players Theatre in Spring Green, WI, I am wondering what George Bernard Shaw would make of today's world and most of all, the U.S's current political scene.
With the subtitle "A Fantasia in the Russian Manner on English Themes," "Heartbreak" proclaims the writer's admiration for Anton Chekhov. However, though Chekhov appears to present his characters' flaws and inability to do much about them as in "Cherry Orchard," he still seems to have a fondness for them and likes them as if they should be tolerated as one does family members.
Shaw has a more critical attitude. He not only populates the English home of Captain Shotover with characters who sound as if they mean well but are so into their own little worlds that they do little to change anything, he also paints them as caricatures in a society that that won't accept responsibility for its country's problems.
Shotover, a sea captain who admittedly loves his rum and mutters about a ship (symbolic for a ship of state) steered by a drunk with an inept crew, is brilliantly interpreted by Jonathan Smoots.
The captain likely expresses Shaw's own views on society as he talks about how everyone aboard a ship has to take responsibility for a good voyage.
Elie, played with verve by Phoebe Gonzalez, is a young girl who wants to marry money, but has fallen in love with Hector, a man she met who spouts romantic tales that are untrue.
Mazzini Dunn is Elie's father who has good ideas and takes refuge in the thought that he has no business sense. Well portrayed as a bumbling nobody by Tim Gittings, Mazzini actually turns out to profitably run his businesses.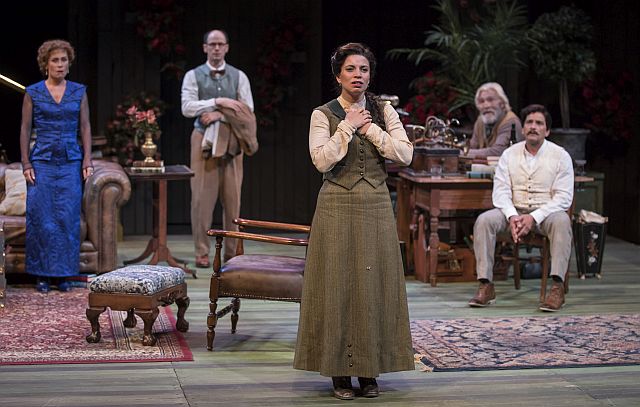 Tracy Michelle Arnold is believable as Hesione Hushaby, s sexy, Bohemian-type character who is Shotover's daughter and who invited some of the characters for dinner. She wants to mentor Elie and stop her from marrying  Boss Alfred Mangan, Elie's supposedly rich, unscrupulous, fiancé-to-be.
Delightfully portrayed by John Taylor Phillips, Mangan turns out to be a pawn of other unscrupulous people and thus will be holding a government position.
The groups assembled also include Lady Utterword, Shotover's other married daughter. Played by Coleen Madden as an uptight "Lady" who appears to represent England's misguided colonial rule and the English peerage. She believes estates have to have horses.
Jim DeVita is Hector, Hushabye's husband who actually did heroic deeds as an adventurer but not the deeds he told Elie when they met earlier. He has one of the best lines when he is probably saying what Shaw believes  as he shouts, "…all talk."
Then there is Nurse Guinness played by Sarah Day. She looks after Shotover and his house and drops common-sense comments.
Written in 1919, the last act of "Heartbreak" is Shaw's final damnation of English society as he sees it.
It takes place in the garden of Captain Shotover's home where sirens are blaring and planes are dropping bombs close to the house. But instead of looking for concrete ways they each could contribute to the war effort or rebuild the country, the people assembled say they are bored. One of them even hopes the bombing will return the next day.
The playbill says "city" for location and "present" for time. That World War One basically began with Archduke Franz Ferdinand's assassination in 1914 and ended in 1919 with the Treaty of Versailles, really sets the time period for Andrew Boyce's excellent scenic design and Rachel Lanitz's fine costume design.
Audiences familiar with the play might realize that the characters of Randall Utterword and burglar (a former Shotover crew member with the same last name of Dunn as Elie and her dad) have been left out in this adaptation by playwright Aaron Posner. Leaving them out doesn't change the thrust of Shaw's wickedly sharp spear but likely has shortened the play to its two and one half hours.
That Posner, an award-winning playwright and APT's director of "Heartbreak," doesn't say anything about  the place as England or that the time is WWI, really allows the audience to make their own comparisons to how Shaw's characters could be living anywhere in Europe or the U.S. and during any time since it was written.
This seems to be true of most of the plays performed by APT. Founded in 1978 as a theater company that would perform the classics, it has grown is size and reputation attracting visitors from across the United States. Many of the plays here are timeless, well-performed and are a good reason to drive to APT.
DETAILS: "Heartbreak House" is at American Players Theatre, 5950 Golf Course Rd., Spring Green, WI, through  Oct. 5, 2018. Running time: 2 hrs, 30 minutes with two intermissions. For tickets and more information call (608) 588-2361 and visit American Players.
Jodie Jacobs
For more shows visit Theatre in Chicago
.
.