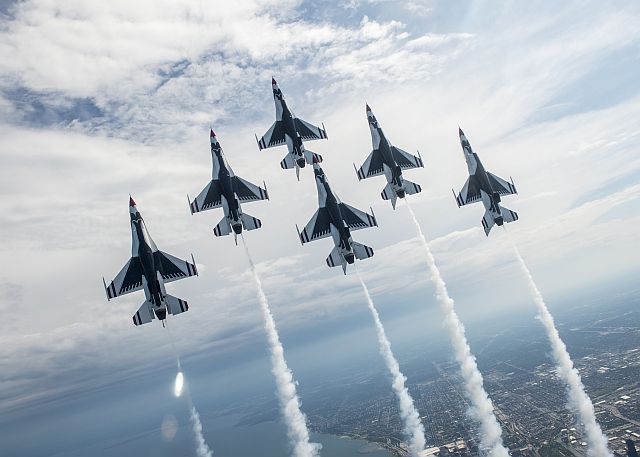 Look up! The best time to watch Chicago's annual Air and Water Show is actually Friday, Aug. 17, 2018, when the North Beach crowds are low and the U.S. Air Force Thunderbirds are high over the city's waterfront.
If you live fairly close to the lake you will probably hear them overhead on Friday even if you are in the northern suburbs. Yes, the Thunderbirds are 2018's headliners.
As for the weekend, even though the show goes from 10 a.m. to 3 p.m. Saturday and Sunday,  the headliners have tended to do their thing towards the end.
Finding a prime spot at North Beach, the festival's loci, does mean coming early but how much sun is OK? The show can be seen from south of North Avenue at Oak Street and north to Fullerton Avenue.
Speaking of Fullerton, check with Theater on the Lake which is hosting a catered viewing party that includes an open bar. Theater on the Lake is at 2401 North Lake Shore Drive at Lake Michigan and Fullerton.
However, arguably the best spot if going to North Avenue beach is at The Shore Club if reservations aren't already filled. The Shore club is at 1603 N Lakeshore Dr.
The Signature room, on the floor 95 in the Hancock Building is a choice spot but lunch reservations may be filled so check its lounge on the 96th floor or  consider going to the observation deck "360." You will need tickets. For information visit 360.  The Hancock is at 875 N. Michigan Ave.
Down on the ground, The Patio at Café Brauer and the bridge behind it are good viewing points for some of the air action and the café is offering some deals on beer. Cafe Brauer is at 2021 N. Stockton Dr. in Lincoln Park.
For more information visit the Chicago Air and Water Show.
Jodie Jacobs