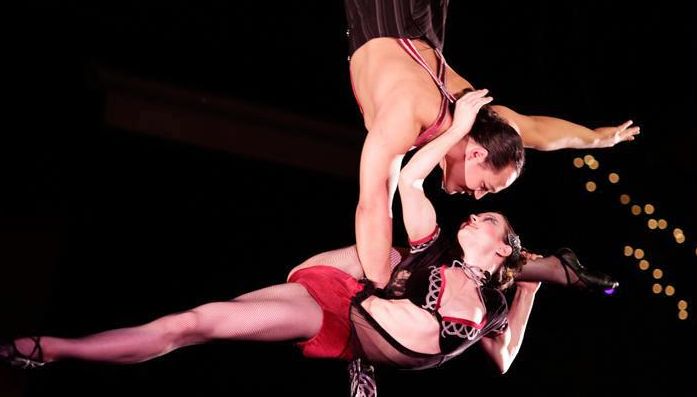 Imagine walking into the Camabria Hotel next to the Oriental Theatre on Randolph, being transported up to the 14th floor, stepping out into a dark, cavernous space not knowing what to expect. And then, offered buffet breakfast tidbits by The Goddess and Grocer and treated to an incredible acrobatic act.
That was what several folks in the entertainment business experienced Sept. 12, 2018. The event introduced the opening of Teatro ZinZanni, a combination cabaret, cirque, dining theater founded by Norman Langill in Seattle in 1998.
Gazing around what looks like a huge, maybe more than four-story high and equally wide, unfinished, abandoned building shell, it's hard to imagine this space will be magically transformed by April 2019 when Teatro ZinZanni expects to premiere "Love, Chaos & Dinner."
The key, Langill explained during Wednesday's announcement, is the Spiegeltent, a large, wood and canvas traveling structure that looks like the tent it is on the outside but will look like a marvelous brick, wood, mirrored and stained glass entertainment venue inside.
Just as fascinating is how its thousands of pieces will get into the space.  Because some are too large to fit in a freight elevator or through a window, some pieces will be dropped by helicopter through a hole in the roof.
So, Chicagoans can expect to see some fascinating maneuvers outside in the theater district before the venue opens inside.
And given that Teatro ZinZanni has a reputation for showcasing excellent aerial trapeze artists such as Duo Rose who performed Wednesday, along with known comedians, singers and magicians, "Love, Chaos & Dinner" will likely add fascinating entertainment inside.
"It the nightclub of your dreams," said Langill.
DETAILS: "Love, Chaos & Dinner" opens in the Spiegeltent ZaZou in the Cambria Hotel, 32 W. Randolph St., April 5, 2019. For Broadway In Chicago Subscription and Groups Sales  tickets (includes 4-course meal), call (312) 977 -1710 and visit Broadway In Chicago.  For individual tickets visit ZinZanni.com/Chicago. Presale tickets beginNov. 26, 2018 and general tickets start Dec. 7, 2018.
Jodie Jacobs