HIGHLY RECOMMENDED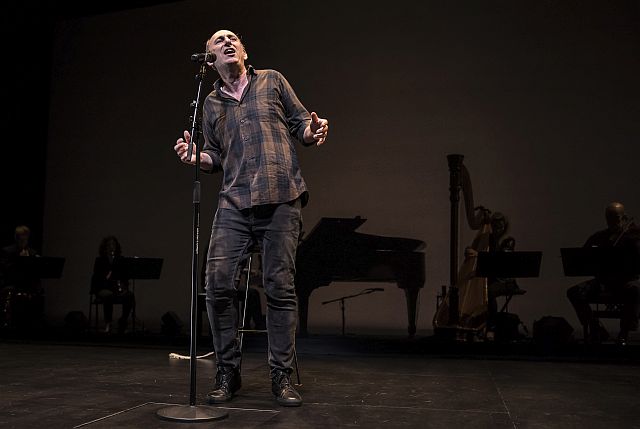 We're told not to give away plot points  of "We're Only Alive for A Short Amount of Time," British born, American actor, singer, composer David Cale's musical memoir now in its world premiere at Goodman Theatre.
So suffice it to say Cale takes audiences from his unusual growing up years through how an early tragedy impacted him and his family to his leaving England for a new life in the United States where he blossoms as an adult and loves being alive.
OK, that's an oversimplification.
"We're Only Alive for A Short Amount of Time" is a commanding performance that combines acting and singing.
Cale adopts the mantle of each of his characters. His change of voice, movements, prose and lyrical poetry set to music, pull audiences into how he thinks family members and he viewed life and each other.
The changes are complemented by a superb six-piece orchestra on stage directed by co-composer/arranger pianist Matthew Dean Marsh. They are adroitly lit in parts and whole by Jennifer Tipton. Kevin Depinet's creative set design enhances the verbal pictures painted by Cale.
No matter what else the show is and does for audiences, it is his tribute to his mother. If viewers look at the playbill cover they will see a woman pictured on his shirt. It is no accident that her picture is placed over his heart.
What is hard to believe is that he tells his story in 90 minutes, a short amount of time given that it has enough plot points to fill a two hour play or three-hour opera.
But Cale who has written one-person shows before, likely understands that brief exposure makes powerful statements.
Directed with great insight and empathy by Robert Falls, "We're Only alive for A Short Amount of Time" is definitely powerful.
DETAILS: "We're Only Alive for A Short Amount of Time" is at Goodman Theatre, 170 N. Dearborn St., Chicago through Oct. 21, 2018. Running time: 90 min. no intermission. For tickets and other information call (312) 443-3800 and visit Goodmantheatre.
Jodie Jacobs
For more shows visit Theatre in Chicago