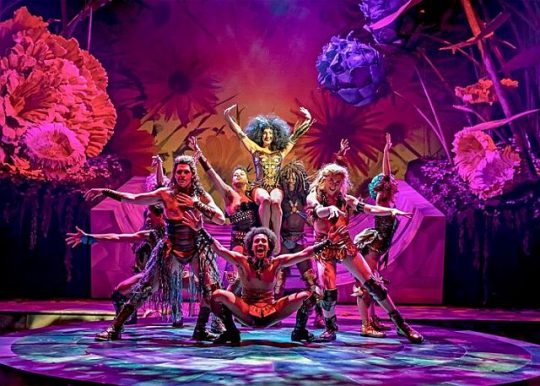 4 stars
Shakespeare Theater Chicago puts a slightly modern twist to an old favorite, one of "The Bard's" most well-known and beloved plays, "A Midsummer Night's Dream."
As is not unusual for Shakespeare this story is something of a three ring circus.
Oberon, King of the Fairies (Edward O'Blenis) directs his minion Puck (Sam Kebede) to put a spell on Titania, Queen of the Fairies (Alexandra Silber) to teach her a lesson.
The spell uses the essence of a special flower that will cause Titania to fall madly in love with the first being she sees whether it be man, beast or fairy. Oberon prefers the more beastly the better.
While he is at it Oberon instructs Puck to put the same spell on local human Demetrius (Eric Schabla) with the hope that he will first see Helena (Cristina Panfilio) who loves him and whom he does not love because he favors Hermia (Melisa Soledad Pereyra).
Hermia loves Lysander (Tyrone Phillips) but her father, Egeus (William Dick) wants her to marry Demetrius, giving her a rather draconian ultimatum.
Meanwhile the local theatrical group led by Peter Quince (Joe Dempsey) featuring Nick Bottom (T.R. Knight) is preparing to offer a short play in celebration of the Duke's wedding.
Puck manages to turn Bottom into a man with the head of a donkey and have him be the first being that Titania sees and who she of course falls madly in love with.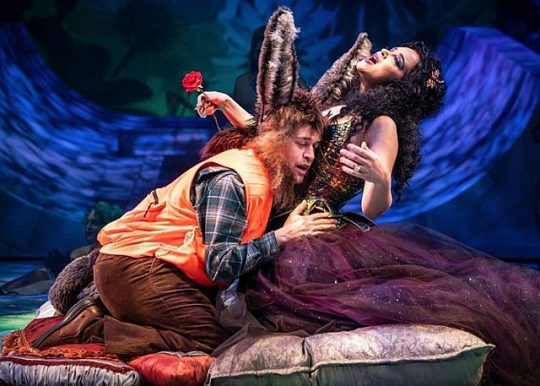 Puck gets a bit confused in regard to Demetrius and Lysander and manages to get them both in love with Helen.
In the end it all gets sorted out, with each affected character believing it has all been one weird dream.
The play within the play gets performed for the Duke (Edward O'Blenis), with young Francis Flute (Alec Silver) reluctantly playing the part of the female ingénue then basically stealing the show in spite of Bottom's most creative and memorable death scene.
This version of "A Midsummer Night's Dream" offers a number of elevated production elements including a dramatic entrance by Puck and the addition of a number of original and repurposed musical elements by composer/musical director Keith Thomas.
The different genres contribute to the contemporary vibe and make it generally more in the vein of a pop concert or a Broadway Musical like "Wicked." If the theater was a bit larger maybe they would have added some pyrotechnics.
The First Fairy (Adrienne Storrs) and Titania are featured in most of the big musical numbers with the ensemble performing as a quite credible group of backup singers.
Todd Rosenthal's set is at first rather austere but later opens to reveal the world of the fairies comprised of an array of colorful humongous and fanciful flowers.
Director Joe Dowling says it is intended to be reminiscent of the "Garden of Earthly Delights," a painting by sixteenth-century Dutch artist Hieronymus Bosch. Lighting by Jesse Klug and Greg Hofmann is certainly part of the visual experience.
Costumes by Fabio Toblini range from fabulous to ho hum but mostly fabulous aided by very effective wigs and makeup by Richard Jarvie. The three wedding dresses would make any bride happy and the fairy costumes would be at home in any grand opera house.
The clearly outstanding performances were by veteran actor William Dick as Egeus, Hermia's father (who also plays Snug the Joiner), Sam Kebede as the mischievous Puck, T.R. Knight as the pompous and bombastic Nick Bottom who commands the stage, and Cristina Panfilio whose modern interpretation of Helena was spot on without losing the important nuance of Shakespeare's language.
Joe Dempsey, Jonathan Butler- Duplessis, Alec Silver and Sara Sevigny who together with Knight make up the travelling theatrical group are clearly having a great time significantly increasing the humor and energy level.
The Shakespeare Theater Company is one of the jewels in the crown of Chicago theater and for that reason must be held to the highest standard. In this case they definitely lived up to their reputation.
DETAILS: "A Midsummer Night's Dream" at CST Courtyard Theater on Chicago's Navy Pier runs through Jan. 27, 2019. Run Time: 2 hours and 30 minutes including intermission. For tickets and other information call (312) 595-5600 or visit Chicago Shakes.
Reno Lovison
For more shows visit Theatre in Chicago