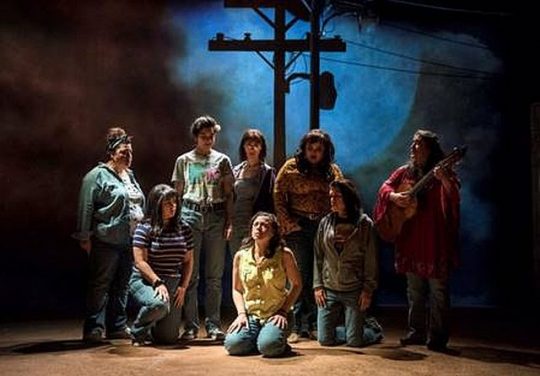 4 stars
For his world premiere of "La Ruta" at the Steppenwolf Theater, Chicago based playwright Isaac Gomez has commandeered a bus transporting "maquila" workers to and from their jobs in Juarez, pointing its headlights into the vast darkness. It exposes the despair and anguish of the mothers and sisters of an estimated 1,400 women kidnapped, used as sex slaves, murdered and disposed of like trash in the Mexican desert.
According to Gomez this is a story that has been systematically silenced through intimidation and adherence to a Latin American culture of toxic masculinity, or "machista."
Based on a true story and directed by Sandra Marquez, "La Ruta" is performed by an all Latinx cast of eight that centers around the few days leading up to and the nearly three years following the disappearance of Brenda (Cher Alvarez).
Gomez is careful to point out in the program notes that this is not a docu-drama but rather a "creative re-imagining."
It is noteworthy to mention because being aware of the nature of the story, I approached this production with considerable trepidation but was relieved to see that it is not a violent reenactment of hideous criminal acts but rather a more subtle and powerful expose that reveals the truth of what is happening.
It is done so through the lives of the women who mourn "Las Desaparecidas" (translating as "the missing girls") and who, through their demonstrations of grief, have come to be known as Las Locas or "the crazy women."
Although the dialogue is very well written, I found that while Sandra Delgado as Brenda's mother, Yoli, and Charin Alvarez as Yoli's friend, Marisela, had moments of greatness, they struggled at other times to hit just the right level of emotion.
However, these performances are early in the run and are likely to evolve over time because both woman have the chops to nail every second of their demanding roles and will, no doubt, hit their stride.
Cher Alvarez is perfectly engaging as Brenda, expressing a palpable "joie de vivre" and a trustworthy nature that illustrates the vulnerability of the innocents who are specifically perused by their predators.
Karen Rodriguez skillfully dealt with her range of emotions as the friend and co-worker, Ivonne, who has secret torments of her own.
Mari Marroquin has a small but very effective scene as Zaide the seasoned factory floor "mother" who is getting ready to "age out" of this system that eats up the young and spits out the old.
Key moments are punctuated by often haunting musical interludes led by the velvety evocative voice of Laura Crotte with her mellow acoustic guitar accompaniment.
All of the songs are in Spanish. One line in "San Del Obrero" (Worker's Song) by Gabino Palomares translates as "…I'm in search of a new world without borders and no boss…"
A stanza in "Siete Soles" (Seven Suns) by Rafael Mendoza says, "…The desert only dried my tears, The darkness only killed my dreams, I was only following the lure of a mirage, Beneath the seven suns I fell into the abyss…"
The action takes place on the fairly bare set design of Regina Garcia in collaboration with lighting designer Jesse Klug and Rasean Davonte Johnson. Projected film images very effectively transport us from location to location and utilize typography to indicate changing time periods.
The play is destined to be hailed as an important work that will illustrate the darker side of the end of the second millennium. It reveals the negative effects of industrialization that clearly has not evolved but rather fails to protect workers and continues to exploit desperate laborers.
"La Ruta" cannot be characterized as uplifting but neither is it exploitive or prurient. It is actual human drama on a personal level based on real life experiences that we can relate to, then walk away feeling informed.
Perhaps people will be inspired to stand up for those who need our support or protection while taking a moment to remember those who are all but forgotten.
DETAILS: "La Ruta" is at Steppenwolf's Upstairs Theater, 1650 N. Halsted Street, Chicago, through Jan. 27, 2019. Running time: about 90 minutes with no intermission. For tickets and other nformation call (312) 335-1650 or visit Steppenwolf.
Reno Lovison
For more shows visit Theatre in Chicago