HIGHLY RECOMMENDED
First a caveat, this critic loved Paramount's 1954 movie and the musical's theme's of romance and military camaraderie and caring so was prepared to also love the show, now touring with a stellar cast of Broadway and tour veteran actors, singers and dancers. It didn't disappoint. Instead, it seemed to this writer to be a perfect holiday ornament.

Based on the book by David Ives and Paul Blake with music and lyrics by Irving Berlin, the musical has some fun songs such as "Snow" sung on a train ride from New York up to Vermont.
There are also some dated but fun pieces such as "What Can You Do With a General," sung about the post-army job market for high-ranking officers.
But it's the famous ones that audiences will likely be humming as they leave such as "I've got My Love to Keep Me Warm," and of course, "White Christmas."
The story pairs Bob Wallace(Sean Montgomery) and Phil Davis (Jeremy Benton), two very successful male entertainers who served in the same unit in WWII, with Betty (Kerry Conte) and Judy (Kelly Sheenan) Haynes who have a sister act.
The gals are headed to a holiday gig at a Vermont ski resort where there is supposed to be snow. Davis tricks Wallace into joining them.
When they arrive, the gig turns into an effort to keep the resort, an inn owned by General Henry Waverly (Conrad John Schuck), from going bankrupt.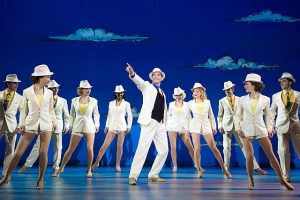 How they pull it off and the general's reaction still brings tears to my eyes.
Along the way you meet inn receptionist Martha Watson (Karen Ziemba), a former Martha Raye style entertainer who also is too nosy for anyone's good.
Plus there is inn employee Ezekiel who is also the train's snoring man (Cliff Bemis who has a great voice and originated the Broadway role), Gen. Waverly's granddaughter Susan (delightfully played in the opening by Makayla Joy Connolly), Stage Manager Mike Nulty (Aaron Galligan-Stierle who is also the Ed Sullivan and Regency Room announcer), and Davis and Wallace promoter Ralph Sheldrake (Gil Brady who always has a "million dollar proposition").
The musical is also a showcase for exceptional dance numbers including "Blue Skies." Kudos to Director/ Choreographer Randy Skinner. In addition, Anna Louizos' creative scenic design really helps tell the story.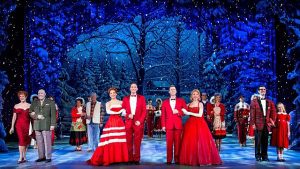 DETAILS: 'White Christmas' is at the Cadillac Palace Theatre , 151 W. Randolph St., Chicago, through Dec. 3, 2017. Running time: 2 hours, 25 minutes. For tickets and other information call (800) 775-2000 and  visit  Broadway in Chicago.
Jodie Jacobs
For more shows visit TheatreinChicago.