Art aficionados, collectors and anyone who has been to the annual SOFA art show know about the high quality works on display.
Perhaps for everyone else the title, an acronym for Sculpture, Objects and functional Art and Design is misleading.
SOFA isn't a crafts fair. Nearly 70 galleries, some as far as Melbourne, Australia, Kyoto, Japan and London, England, have brought their showpieces to Chicago's Navy Pier for the event.
When asked during opening night why come so far, Melbourne's Kirra Galleries Manager Suzanne Brett, said, "We come because this is the biggest collector's fair in the year."  Her gallery specializes in exquisite glass objects.
A couple of rows over are the gorgeous ceramics of the Sokyo Gallery from Kyoto. "This is the only one we do in the United States. It's a good show for us," said Yoshika Yajima.
At the Thursday night preview reception, the crowd appeared to be collectors and buyers who talked about how pieces would fit with what they had.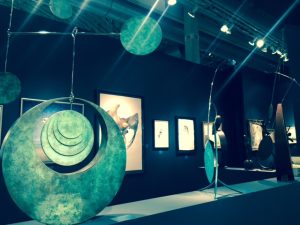 At London's Gladwell & Patterson Gallery, Ella C. Elphick was adjusting a stunning mobile. "A lot of our customers are in Chicago," she said explaining this was the gallery's second year at the show.
Interested in buying or not, SOFA is a good show to see what is trending and what might be fun to have. Begun Nov. 3, the show continues  through Sunday, Nov. 6, 2016.
SOFA is at Navy Pier, 600 E. Grand Ave., Chicago, IL. For tickets and other information visit SOFA and Navy Pier.