HIGHLY RECOMMENDED
Imagine two very different families trying to pair up their children with not very successful results. That's a traditional rom-com format you'd see on TV. But now imagine these families are a well-established Muslim family paired with new refuges from Iraq. And yes, it's a comedy.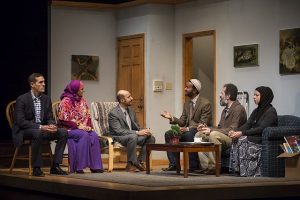 'Yasmina's Necklace,' playing now at The Goodman Theatre, is about overcoming tragedy and moving on with your life in a new land with new opportunities and challenges.
What makes the play so compelling is that everyone can identify with this family situation no matter what their race, religion or ethnicity.
The show by Chicago playwright Rohina Malik is both funny as well as dramatic and thought-provoking, as the audience navigates the pain of both Yasmina and her father when settling in Chicago from Bagdad.
Yasmina uses her art talent to communicate the horrors of her past. The necklace, always around her neck, represents her love for the country she was forced to leave and will always be in her heart.
Potential suitor Sam recently changed his Arabic name to avoid Anti-Muslim bias and move up the career ladder. He's also recovering from a bad divorce and is not interested in meeting anyone. But when he volunteers to support Yasmina with her non-profit organization helping other refuges, their relationship begins to warm.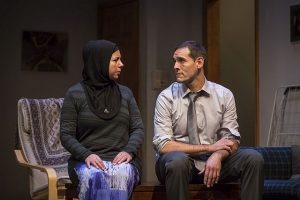 Led by director Ann Filmer, actor Susaan Jamshidi as the vulnerable Yasmina is outstanding as her character moves from anger to acceptance to strength.
Michael Perez as Sam is also excellent as his character develops from someone who is conflicted about his identity to someone who stands proud of his traditions. Always in the background is a sense of fear and loss.
The set revolves around the very different apartments of the two families, one who is settled and well-off, and the other of newly arrived immigrants.
The play was scripted by Malik who was concerned about how Muslims are portrayed in the media and wanted to show them without stereotype. She has done a masterful job and the result is one powerful evening of theatre.
DETAILS: 'Yasmina's Necklace' is in the Owen at The Goodman Theatre, 170 N. Dearborn St., Chicago. through Nov.19, 2017. Running time: 2 hours and 30 minutes with intermission. For tickets and other information call (312) 443- 3800  and visit Goodman.
Mira Temkin
For more shows visit TheatreinChicago.