HIGHLY RECOMMENDED
Put together George Gershwin's stirring music, Ira Gershwin's delightful lyrics, Craig Lucas' thoughtful book, Christopher Wheeldon's  exceptional choreography and direction and Bob Crowley' amazing set design.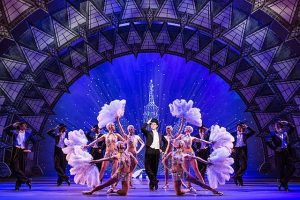 Then people their work with the fine dancing talents of McGee Maddox of the National Ballet of Canada and Sara Esty, former Miami City Ballet soloist.
Add in the excellent acting and vocal talents of Nick Spangler from Book of Mormon and of Adam Hockberg and Emily Ferranti from "Wicked.
With all that creativity and talent put into one show you'll have an evening to remember at 'American in Paris,' now at the Oriental Theatre through Aug. 19, 2017.