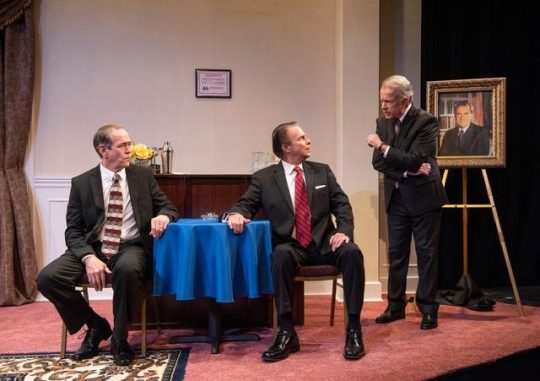 'Five Presidents'
3 stars
Rick Cleveland's fictionalized docudrama, which is generously laced with comic zingers and one-liners that lighten the subject, imagines a 90-minute get-together between past presidents Gerald Ford, Jimmy Carter, George H.W. Bush, Ronald Reagan, and the current "Leader of the Free World", Bill Clinton.
The year is 1994 and the setting is a gathering room in the Nixon Library in Yorba Linda, CA, tastefully designed by Grant Sabin and nicely lit by Alexander Ridgers.
The occasion for this meeting is the funeral of President Richard Nixon. Even though these five men would've greeted each other on this occasion, it's unlikely that they spent an hour and a half talking together about so many different topics.
For most of the play, the five living members of this exclusive club banter about each other's faults and failings and recite  the various foreign and domestic policies that each President passed while in office.
The one plot point that runs throughout the play is that President Ford has decided he no longer wants to deliver his portion of Nixon's eulogy but the other four try to convince him otherwise.
President Regan keeps offering to come to the rescue by volunteering to speak extemporaneously. However, the other men are aware that Reagan is in the onset of Alzheimer's and understand how disastrous his eulogy might be.