HIGHLY RECOMMENDED
It will likely be hard for audiences of 'Blind Date,' now at Goodman Theatre, to not think about how current US President Donald Trump is dealing with Russia.
It is also interesting how the matter of spreading Soviet influence enters the conversation as the protagonists in the play, President Ronald Reagan and his USSR counterpart, Mikhaile Gorbachev who held the title USSR General Secretary of the Communist Party and also Chairman of the Presidium of the Supreme Soviet, meet to discuss nuclear armament colored by Soviet Union attempts to indoctrinate third world countries.
The play, written by Rogelio Martinez, also refers to how a nuclear war could be started by the accidental press of a button. Hmm. Hawaii's mistake hadn't even happened when this was written.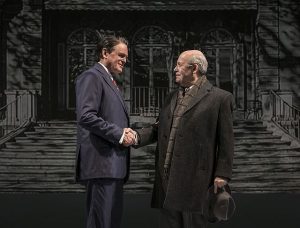 Martinez also stuck a few lines in for Gorbachev to comment on democracy, voting and the concept that voters are often less than intelligent.
The "date" in the title refers to the summit in Geneva when the two world leaders first met face to face. However, the audience doesn't see Reagan and Gorbachev or their wives until the last moment of Act I.
The first act is all about Secretary of State  George Shultz (Jim Ortlieb) and Minister of Foreign Affairs Eduard Shevardnadze (Steve Pickering) paving the way for the monumental get together. Their acting and portrayals are suburb.
Their discussions are as much a "dance" as what Reagan and Gorbachev will do later on. The planners have to set parameters and learn to trust each other.
Then there is Act II in which audiences see Rob Riley as President Ronald Reagan and William Dick as Mikhail Gorbachev. The two leaders present their views on nuclear weapons and defense but those summit discussions are colored by Reagan's view of the world expressed through quotes from films he loved, acted in or characters he admired.
Audiences also meet their wives. Deanna Dunagan is outstanding as Nancy Reagan as is Mary Beth Fisher as Raisa Gorbachev.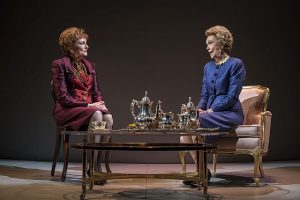 The fun part is the sparing between the world leaders and also between the wives in their determination not to be one upped.
It's also interesting and fun to watch Michael Milligan as Press Secretary Larry Speaks. Reagan warns that Speaks, a native Mississippian, can be as dangerous and wily as a catfish. The media, presented as similar to the current Washington press corps, emphasize Martinez's observations on several levels that little has changed.
Gorbachev poo poos the idea of a free press explaining that with one paper, the public knows that what it prints are lies. "The people aren't stupid," he says.
The Russian leader goes on to say that with many more newspapers, the public wouldn't know who to believe and what are lies.
Because this summit is supposed to be about nuclear capability, the other two characters are Torrey Hanson as Secretary of Defense Caspar Weinberger and his counterpart, Gregory Linington as Vyacheslav Zaitsev.
The person arguably on stage the most when Reagan is also front and center is his biographer, Edmund Morris. Thomas J. Cox has the difficult job of portraying Morris, a person who has total access but is basically a fly on the wall.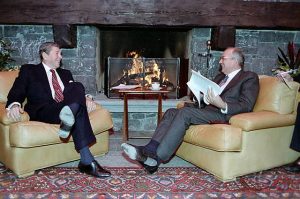 Audiences may wonder at Morris' constant query to Reagan about who he is. In fact, Morris had said in interviews after his book Dutch: A Memoir of Ronald Reagan,  came out in 1999, that he never felt he had full insight into Reagan the man. The book was also controversial because Morris wrote it as if it were from the standpoint of a fictional person who knew Reagan throughout his life.
This is a good show to either do some historical homework before going or arrive early enough to read the program which has excellent photos and good background on the meetings between Reagan and Gorbachev.
Directed by Robert Falls and thanks to the simple, effective set design by Riccardo Hernandez, 'Blind Date' moves seamlessly between the characters trying to set up the summit, the actions of the two world leaders, the concerns and behavior of their wives and the press conferences.
DETAILS: 'Blind Date' is at Goodman mTheatre, 170 N Dearborn Street Chicago, now through Feb. 25, 2018. Running time: 2 hrs, 30 minutes with one intermission. For other information and tickets call (312) 443-3800 or visit Goodman Theatre.
Jodie Jacobs
For more shows, visit TheatreinChicago