HIGHLY RECOMMENDED
Go to Paramount Theatre's 'Million Dollar Quartet' if you love Johnny Cash. Go if you appreciate really good boogie piano. Or go if you are interested in the Sam Phillip's Sun Studio's handling of Elvis Presley, Johnny Cash, Carl Perkins and Jerry Lee Lewis.
It's nice to have the show back in the Chicago area, if even for its short, little over a month, duration.
The story, captured in a photo and on tape at Sun Records Studio, Memphis, tells of the only time that four of Sam Phillip's top stars jammed together.
They happened to stop by his recording studio when Carl Perkins was supposed to be taping. Some were going to tell Phillips that they were not renewing their contract but Lewis was looking for a long contract at Sun.
The important incident was turned into a "jukebox" show of great mid-last century songs by Floyd Mutrux who wrote the book with Colin Escott and directed the original productions.
Started in Daytona Beach in 2006 before going to Seattle in 2007, the show was developed further at the Goodman Theatre in fall 2008.
It transferred to the Apollo Theatre where it ran until recently, closing early in 2016. But the original cast went on to NYC where 'Million Dollar Quartet' ran on Broadway from mid 2010 to mid 2011 while still playing the Apollo. It brought Levi Kreis a Tony Award as Jerry Lee Lewis.
The phrase "blown away" is often used but that was how I felt when seeing Kreis. Paramount guests will feel the same way when watching Gavin Rohrer as Lewis. Rohrer is incredible. He has already portrayed Lewis in two other shows including the Lyric Theatre of Oklahoma.
Nor will long time fans of Johnny Cash feel cheated when they see Bill Scott Sheets in the role. An operatic baritone who has all played such musical theatre rolls as Don Quixote, Sheets nails Cash's sound and microphone approach.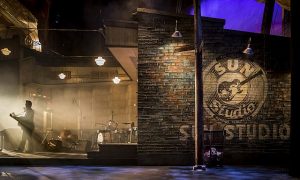 While some rockabilly aficionados might know that "Blue Suede Shoes" was written by Perkins who epitomized the genre, the fact that his hit song was closely identified with Elvis Presley is important to the show.
That frustration comes across with Broadway actor Adam Wesley Brown, a veteran of Chicago theatre and film, taking on the role of Perkins with the characteristic knee raise and emphasis.
It's easy to see that Kavan Hashemian who has appeared in other 'Million Dollar Quartet' productions as Elvis, really enjoys the role. He has the moves down pat and can probably sing the songs in his sleep because he has been performing them since age three.
The surprise of the Paramount show which is all about male performers, is the wonderful turn as Elvis' girlfriend, Dyanne, by Courtney Mack. Her "Fever" in Act I and "I Hear You Knockin" in Act II, brings the house down. Of course, Paramount regulars likely remember her from "Mamma Mia"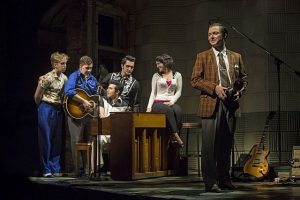 Another unexpected musical treat comes when Zach Lentino as Perkins' brother Jay shows off his skills as an upright bassist. BTW Lentino was in 'Million Dollar Quartet at the Apollo.
Drummer Scott Simon who plays in several Chicago productions is Fluke, a member of Perkins' group. He's excellent but not really noticed until near the end.
Perhaps the most unappreciated role in the show is that of Sam Phillips. Played by Nicholas Harzain, a film actor who is also in several regional shows, Phillips comes across as a hard-working, small-town, talent developer.
A note about Kevin Depinet's set design: folks who have been to Memphis and walked through what is now, basically a museum, know Depinet has totally captured Sun Studio.
Directed by Jim Corti with music direction by Kory Danielson, 'Million Dollar Quartet' has a "Whole Lotta Shakin' Goin' On."
DETAILS: 'Million Dollar Quartet' is at Paramount Theatre, 23 Galena Blvd., Aurora, now through Oct. 29, 2017. Running time is two hours. For tickets and other information visit Paramount or call (630) 896- 6666.