There's so much going on in Chicago it's a challenge to figure out what to try and do and see. Or, to wonder the why and wherefore of the crowd outside Goodman Theatre Jan. 19, 2017. 'Around Town' is an occasional feature to help sort through at least some of the city's events.
Goodman marquee
You might think the scenery hasn't changed when you look north on Dearborn Street near Randolph Street. Butif there fter Jan. 19, 2017, you should see the lights of Goodman Theatre's tall marquee during the day.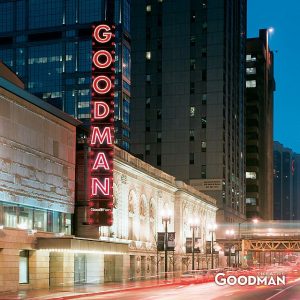 The old marquee, damaged in an electrical fire last spring, has been replaced with a similar version but with an important difference. You will see it lit 24/7. The lights are LED, color-changeable and each letter is programmable.
"Our marquee is the brightest, most visible symbol of Goodman Theatre's 30+ year commitment to high quality productions, cultural and aesthetic diversity on and off our stages, and proactive engagement in our Chicago community—a commitment that has distinguished us, and redefined what a major cultural institution can be," said Artistic Director Robert Falls.
The Jan. 19 illumination was a deliberate date choice to call attention to the The Ghostlight Project, a national American theater initiative of inclusiveness.
"As part of the Ghostlight Project, we will stand with our theater colleagues across the country at the same time and pledge to protect the values of equality, inclusion, justice—and empathy for everyone, regardless of race, class, religion, country of origin, immigration status, (dis)ability, gender identity or sexual orientation," Falls said.
Goodman Theatre is  at 170 N. Dearborn St., Chicago, IL
At the MCA
Maybe you noticed that during the past few years the Museum of Contemporary Art has evolved into a multi-media venue that presents dance, music and theater programs, aside from its changing menu of art exhibits.
So, the addition of dance performances up on the fourth floor during the opening weekend of  'Merce Cunningham: Common Time,' a multi-media exhibit, seems almost like a given.
Former Merce Cunningham Dance Company members will incorporate important pieces from the past 60 years into performances  called Events, Feb. 11 and 12., 1:30 to 2 p.m. and 4 to 4:30 p.m.
Staged and arranged by Andrea Weber, the Event showcases dancers Dylan Crossman, Silas Riener, Jamie Scott and Melissa Toogood. The accompanying musicians are Hanna Brock, Nicolas Collins, Kg Price, Katharine young and their arranger, Stephan Moore.
The Museum of Contemporary Art is at 220 E. Chicago Avenue
Black History Month
There will be free events across Chicago in February honoring Black History Month. Among them are stage related segments coordinated by the Goodman Theatre under the umbrella "Black Words Mater: Celebrating Black Voices on Stage and Beyond."
Among the events are a reading of "Gee's Bend" by Elyzabeth Gregory Wilder at the DuSable Museum of African American History (740 E. 56th Place,) Feb. 7 at 2 p.m. and film screening August Wilson's "The Piano Lesson"  at AMC Dine-In Theatres at Block 37 (108 N. State St. (availability limited).
In addition, "Playwrights from past to present" is a lecture by Goodman Theatre Resident Director Chuck smith at the Harold Washington Library (400 S. State St) Feb. 23 at 6:30 p.m. and  a panel discussion on "Diversity in theater administration and Intern/apprentice networking" at Goodman Theatre's Alice Rapoport Center for Education and Engagement (107 N. Dearborn St.), Feb. 27 at 5:30 p.m.
For more information visit Goodman Black Words