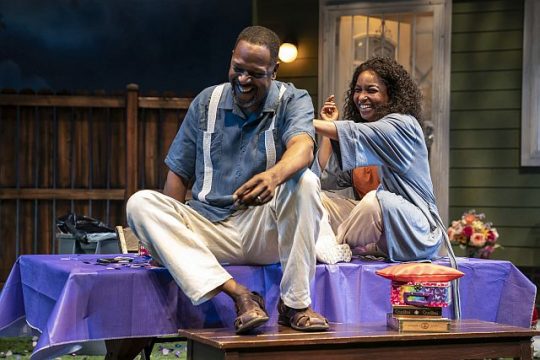 3 stars
Rightlynd is Holter's fictional ward in Chicago. When guests enter Owen's lobby they see a colorful board map of the neighborhood with places and names that have been mentioned in the saga's plays that precede "Lottery Day." Maybe a copy of that map ought to be in the playbill.
If you think of playwright Ike Holter's "Lottery Day," the seventh play in his Rightlynd saga, from an opera format view point, you may not mind that you don't hear what the characters are saying when they all talk at the same time. Maybe, just consider it a duet or blending of emotions and voices.
According to Holter's comments in Goodman Theatre's On Stage Q&A the cadence and very fast dialogue beats in his series are deliberate.
I understand that. But when watching "Lottery Day," now in its world premiere at Goodman's Owen Theatre, I felt I needed to actually hear what they were saying to help me define each character's place in the story, their concerns and background.
Not having seen any of the plays that preceded "Lottery Day" in the saga, I felt I had come upon preparations for a party and then the party, itself, quite accidentally without knowing any of the participants, their back story or why they interacted the way they did.Read More