RECOMMENDED
Knowing how vaudeville acts had to move around to make a living or even how current performers continue to do so, it's easy to understand they live what is thought of as a gypsy life.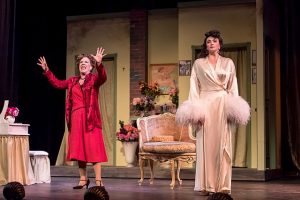 But when hearing 'Gypsy' capitalized as in the 1959 Broadway hit by Jule Styne (music), Stephen Sondheim (lyrics) and Arthur Laurents (book), you are likely to think Ethel Merman as the indomitable stage mother of entertainer Gypsy Rose Lee and actress June Havoc.
In the Music Theater Works production of  'Gypsy,' Mary Robin Roth is so believable as Rose, an over-the-top stage mother, that her character is not easy to like. Indeed, a few theater-goers might equate how she directed her daughter's lives with their own experience.
However this is the show Merman arguable made famous with her brash portrayal of Rose so, everyone can expect Roth to belt out commands and the show's famed "Everything's Coming up Roses." They won't be disappointed.
It's also fun to watch the incredible transformation of Louise, the shy, unimposing elder sister of Baby June into the renowned burlesque entertainer, Gypsy Rose Lee, a sophisticated and striking strip tease vedette.
Along the way there is the charming voice of Sophie Kagi as the young Baby June, the boys who march with her in the early stage troupe and the talented young lads who accompany the older June (Rosie Jo Neddy) as an aging troupe. They're featured in several fine dance numbers choreographed by Clayton Cross.
The evolution from young troupe to older was amazingly accomplished in a whirling, order-in-chaos dance scene thanks to Cross, stage director Rudy Hogenmiller and lighting designer Andrew H. Meyers.
In addition, Russell Alan Rowe is the long suffering Herbie who loves Rose, acts as the troupe's agent and is sensitive to the needs of the boys and Louise.
The musical is based on the memoirs of Gypsy Rose Lee who was also an author and actress ("Stage Door Canteen" 1949).
'Gypsy' is at Music Theater Works (formerly Light Opera Works) now through Aug. 27, 2017. The show is in Northwestern University's Cahn Auditorium at 600 Emerson St. at Sheridan Road. For tickets and other information visit the box office at 516 4th St., Wilmette, call (847) 920-5360 or visit Music Theater Works.