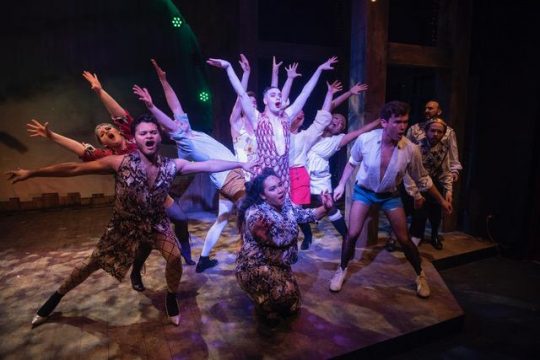 4 stars
Whoever would've imagined that a new, surprisingly entertaining musical comedy, based upon a lengthy 16th century poem by Sir Philip Sidney, conceived and fashioned into a script by Jeff Whitty, and adapted for the Broadway stage by James Magruder, would evolve into a toe-tapping jukebox musical?
With a score adapted from the songs of popular 80's girl band, The Go-Go's, this perky show  feels not only original but groundbreaking. And, in many ways, it is. The musical follows in the footsteps of other unlikely tune-filled Broadway hits such as "Spring Awakening" and "Hedwig and the Angry Inch."
Debuting in 2015 at the Oregon Shakespeare Festival, the show ran for a month in San Francisco but its next stop was a dazzling 2018 Broadway production that just closed this past January.
Kokandy Productions is making theatrical history by presenting one of the first regional stagings of this musical, one that's bound to become a cutting-edge new standard in theatres around the country.