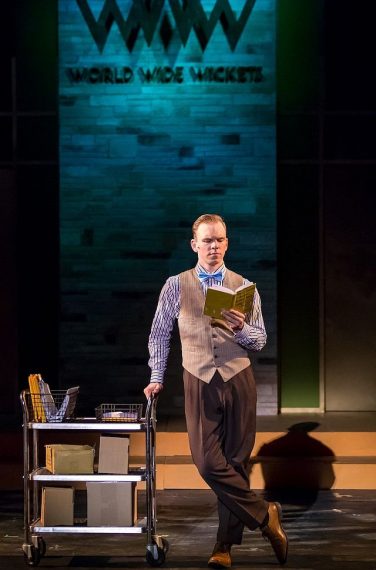 4 stars
The bouncy overture winds down, the curtain rises and we find a young man in coveralls descending from above in the Music Theater Work's "How to Succeed in Business Without Really Trying."
J. Pierrepont Finch, an ambitious young window washer, is discovered reading Shepherd Mead's tongue-in-cheek instructional book of the same name, while dangling from scaffolding above Madison Avenue.
Narrated for this production by NPR news quiz host, Peter Sagal, the book progresses chapter-by-chapter, charting the recommended course for Ponty's rise to power in the business world.
Now, bear in mind that this how-to manual, a 1952 best-seller by Shepherd Mead, subtitled "The Dastard's Guide to Fame and Fortune," was written as a parody of the popular self-help books of that era. Between this book's unfailing advice and Finch's pluck and pizzazz, this likable kid is undoubtedly destined to rise to the top…or is he?
It's hard to believe that this show which set a new standard for musical comedy satire, is almost 60 years old now. The hummable score by Frank Loesser ("Guys & Dolls," "Most Happy Fellow") features a libretto by Abe Burrows, Jack Weinstock and Willie Gilbert, adapted from Mead's humorous book of the same name.
The musical has a field day lampooning the seeming ease with which an entry level employee can rise to the top of the corporate ladder. A film preserving the performances of most of the original cast was released in 1967. This 1962 Pulitzer Prize and eight-time Tony Award winner has been successfully revived twice on Broadway, earning additional Tony Award nominations and wins.
Throughout the play, whenever it seems the darkest, the young, eager beaver aligns with precisely the right people to learn from and suck up to, as well as the easiest loopholes to infiltrate, in order to reach the top. And when all those elements are out of reach, Ponty employs his considerable boyish charm, ultimately helping him to achieve success.