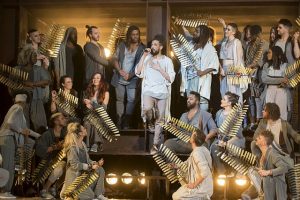 RECOMMENDED
Experiencing 'Jesus Christ Superstar,' Andrew Lloyd Webber and Tim Rice's rock opera at the Lyric, is akin to attending a high-powered rock concert.
Amps are set on high much of the time so audiences really do need to already know the lyrics. The high intensity stage lighting designed by Lee Curran echoes those of Super Bowl half times.
The main tenors, Jesus Christ (Heath Saunders)  and Judas Iscariot (Ryan Shaw) mix singing with high-pitched, grating screams, and they, plus Pontius Pilate (Michael Cunio who is also a tenor) play their guitars on stage. In addition, the singers use mikes. Indeed, the mike handling is often a part of the choreography.
In other words, the Lyric production would gladden the hearts of today's Millennial Generation.