HIGHLY RECOMMENDED
Many issues that women dealt with a century ago still hang over their heads and affect their lives, work, families and relationships.  From wanting to feel protected while searching for freedom to embracing dreams while being steered toward stereotypical roles, women continue to struggle against being controlled.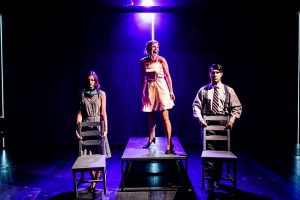 These issues are front and center in the Greenhouse Theater Center's compelling revival of "Machinal,"a play by Sophie Treadwell that hit Broadway in 1928.
The play is based on the life and trial of Ruth Snyder, a ruthless and manipulative murderess who, with her lover, killed her husband for a double indemnity insurance payout. But Machinal's protagonist, "Young Woman," portrayed by Heather Chrisler, is nothing like the real Ruth Snyder.
She garners the audience's empathy as she encounters the demands of a rigid and unfriendly workplace and a life of struggles to support her mother.
In the midst of an argument over whom she should marry, she asks her overbearing mother, "Did you love Pa?"  Her mother replies, "I suppose I did . . . I don't remember.  What difference does it make?" The mother pushes her daughter into marrying a man for financial gain.
Years later, feeling trapped in a loveless marriage, Young Woman's goal is to free herself from captivity.
Chrisler does an excellent job as she captures the complexity of the main character and the challenges faced.  She portrays a frightened woman who follows the daily rules of work, marries someone whom she doesn't love, gives birth to a child she doesn't want, pleads with everyone to "Let me alone" and eventually finds a lover outside of her marriage who contributes to her ultimate demise.
The nine other cast members are wonderful as they play multiple roles including Young Woman's co-workers, mother, husband, lover, doctors, nurses, trial lawyers, reporters and priest.
With minimal props on a stage devoid of scenery, the ensemble lights up the audience's imagination in innovative ways that draw them into this mesmerizing story—a story that ends with Young Woman declaring, "I wanted to be free.  I wanted him out of the way. It made me free for one moment!"
Directed by Jacob Harvey with movement by Elizabeth Margolius, Machinal is a play that addresses the balancing act that women have long attempted.
DETAILS: "Machinal" is at Greenhouse Theater Center (Upstairs Main Stage), 2257 N. Lincoln Ave., Chicago through Sept. 24, 2017.  For tickets and other information visit Greenhouse Theater or call (773) 404-7336.
-Francine Pappadis Friedman